My sister, Samiah, (from left to right, Hana, Aurelia, Anna and Samiah (in red)) is going through one of her life's most challenging ordeals. I have shared some of her journey via Instagram posts, which you may read below. She has written her own words as well. And I am honored to share here what she has written.
Salamualaikum and Peace and blessings upon you

This year has been Epic in so many ways. My story, and my life took a whole new turn and in a way I did not see coming. Due to the global changes in our world, we decided to move to Alaska and in a moment's notice we uprooted our entire life and moved away from everyone we love: our family, neighbors, friends, community, mosque, and even my loyal business team. We arrived in Anchorage on October 31: Brian, Logan, myself and our cat and bird, waiting for our new home in Talkeetna to close, But found ourselves in a holding position. Each step had to be redirected until, finally we resolved to settle in Anchorage until December 15th, reluctantly unloading our 40 foot container into a storage unit and parking ourselves in a studio apartment…

Once that was settled, I started to have neck pain, recurring and intensifying headaches, and unusual symptoms progressively worsening. My sweet husband Brian responded to every need, taking me to the chiropractor, then the acupuncturist only suspecting a kink in my neck due to the heavy stress and muscle tension from moving.

On Sunday December 6th my pain shifted sides and I felt my life force failing. We went to ER and discovered what was ailing me: to everyone's shock, it was a brain tumor. I had one day to tell my family, one day to meet the brain surgeon, Dr. James Bales, and the following day, Wednesday December 9th, 2020 I was slowly walking into the hospital to face the next chapter.

As you know, I am the one writing this, so you know how that day went, Alhamdulillah! Allah not only gave me life anew, he showered me with gifts: A peace I never felt before, a feeling I had been cleansed from the inside out and a sanctuary far removed from toxic pollutants so that I may heal. This battle was won! Allah hu Akbar.

But wait, there's more! I've come to understand that Allah is the Writer and we each play a character; and He chose for me a grand and dramatic "take your breath away" next chapter… a good story always has danger! We found out that the tumor was the fastest growing, most aggressive type, although I suspect it is very old in its original design. So this brings us to the unfolding, unwritten chapters ahead.

I have a battle ahead, and I suspect it won't be easy, but I put my trust in Allah and with His Will I will rise to the occasion and have myself the most awesome fight. Allah gave each of us life and purpose and gave each the adaptations necessary for us to fulfill our purpose. In this adventure I feel like I'm Frodo with the ring, or Rocky with his boxing gloves. Whatever the story, I'm going to wish for some cheering and support from you. So let us find strength in numbers and strength in our Deen.

✨ ✨ ✨ 🕋 ✨ ✨✨

Here are three ways to send your love and support. It is important to understand how special Allah made all of us, and how deeply connected we are, increasing this bond exponentially through this unexpected journey.

I have experienced the deepest peace and am honored to have experienced this trial. Allah is the greatest and He gave me a most beautiful gift: The bond to all who I love and all who love me. Every single person touched by this shockwave, this thunderbolt has felt pain and sadness. My message to you is to feel peace and celebrate as we have successfully won the first battle. You may express this joy by hand writing a card to Dr. James Bales and his team for accepting such a task and performing brain surgery in a most successful manner.

Many of you have asked to help in other ways. Having left my California home, meal trains and physical support are sadly no longer an option. However we would be delighted to receive your love via post. Sending your love in other special ways can be with gifts that warm the heart, each held in your hands, each special to you, each wrapped in colorful paper (bows and details included) would be most cherished by our family. What makes you happy, makes us happy.

Each of us has a specific purpose and ability. You may be the type who finds great joy in supporting us financially; a most noble and generous quality and a powerful contribution to facilitate healing. For you, an account is set up so we may purchase supplies and accommodate those who come to help. I have one request to add: Others are suffering so much more than I am, so I would like a portion to be redirected towards those in far greater needs.

May all your duas, prayers and well wishes be answered and may I rise to the occasion and face my next battles with a mighty spirit, and may our Creator heal me and leave no ailment behind, and may he do the same for all who are suffering. Celebrate this moment's victory and spread hope and gratitude.

My deepest gratitude to Allah for giving me such incredible friends. Allah is the Greatest. I love the character He chose for me in this story of mankind, truly epic!

✨ ✨ ✨ 📖 ✨ ✨✨

-Samiah Hinton, December 2020
Sending cards of gratitude to medical team
James Bales, MD and Team
Providence Health & Services
3831 Piper St, Ste S 450
Anchorage, AK 99508
Sending gifts and cards to Hinton family
Brian and Samiah Hinton #710
2521 E. Mountain Village Drive, Ste B
Wasilla, AK 99654
Sending financial support
PayPal at customerservice@samiah.com
---
---
Why I Bought Essential Oils for Brain Cancer
I recently purchased a number of essential oils for my sister and recorded this unboxing video. I've been taking essential oils for years, but this is my first time signing up with Young Living. My friend Afra helped me choose the right starter package to get me going. While I have used Young Living in the past, it is so expensive, I've used other brands which were far more affordable. I've used Butterfly Express Oils for about 9 years and because they were so affordable, I was able to try out a lot of oils without the worry that I would waste money because they are about 80% off the price of Young Living. But there were some oils I did buy directly from Young Living even when I was buying alternatives. They were Thieves, Copaiba and Cloves. I know Young Living's quality is unmatched, so when you want high quality, you know it's from a brand that can guarantee the processes of making oils from seed to seal.
But what got me from using other oils to using Young Living almost exclusively? It was one bottle of peppermint and a story that goes along with it. You can hear all about my experience with Young Living versus other brands and what situation made me change for myself.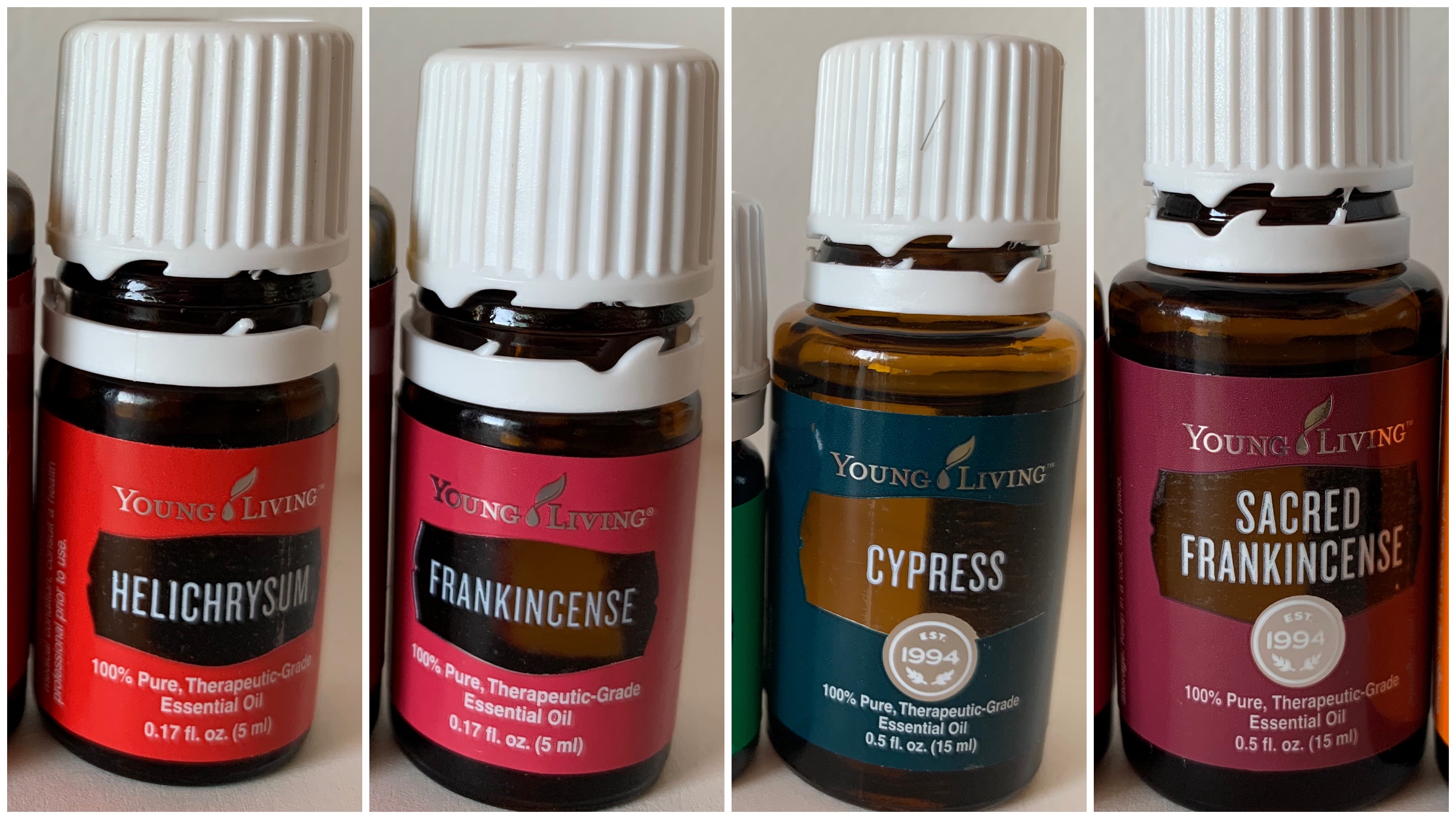 But my change was slow. When my sister, Samiah, was diagnosed with brain cancer about a month ago, I went into research mode. I joined brain tumor and brain cancer Facebook groups and invited advice and information people shared with me. Eventually that led to learning about some essential oils that help during brain tumor or cancer treatment: Frankincense, Sacred Frankincense, Cypress and Helichrysum. I believe it's just the Frankincense that helps with brain tumors, while the Cypress Oil helps with strong emotions especially grief and Helichrysum helps with wounds, infections and inflammation. I first learned about Frankincense for brain tumors years ago when my cousin's mom passed away from the same type of Glioblastoma as my sister. I had let it slip from my memory, but now its associate to brain tumors and cancers is informative and beneficial. I hope this information is helpful but does not replace your own research and medical advice you receive from your doctor. When it comes to using western medicinal treatments, we need to be aware that some alternative forms of treatment do not complement the treatment and may actually minimize the treatment's effectiveness. Please consult with your functional oncologist.
I love using the citrus scents in Bar Lotions and Lip Balms. They have a wonderful uplifting smell. I also use peppermint as well, but it will burn if you get it on cracked skin or red skin due to blowing your nose or from wind or sun burn.
I love Tea Tree oil and have added it to my shampoo for years. You can also use it as an ingredient in hand sanitizer which I much prefer over alcohol based sanitizers.
---
Homeschool Room Makeover | Before and After Cabin
I recently visited my sister in Talkeetna, Alaska and while there, I helped here transform a small detached cabin into a homeschool space which doubles as a guest room. This cabin and home were built by the original owners in the 1980s. It's a stunning space with gorgeous details and expect craftsmanship. This cabin is about 12 feet by 12 feet (but I'm not actually sure about the exact measurements). It was built for the owners to live in while they built the main house. It comes with heat and a gas stove, but there's no running water or bathroom. There is an outhouse with a compost toilet, but the main house has septic, power and water. While there is still work to do in this cabin space (like all the micro organizing), we did make huge strides in just a few days. We collected everything that should be in this space like the homeschool materials, a table, chair and antique daybed. What didn't make its way into this space are the large table (think kitchen size with remove left) and two Ikea Kallax bookcases. I'm really glad we didn't put the bookcases in the space because they wouldn't have matched well and we had sufficient storage with the shelf near the top of the cabin which ran on nearly all for sides and the cabinetry. The the counters will double wonderfully for workspace so the table, while functional, is redundant in this small space. I like the items that ended up in the cabin because they are rustic and complement each other. What I didn't show were the three cabinets under the counter. Those are largely empty or partial filled with things that belong elsewhere like kitchen dishes and mugs. There were a few more homeschool boxes that are still in storage that need to be sorted through and added to this space. That will be for another trip. The space in the cabinets is not super functional right now, but with the right storage containers, I think it will be a nice place to have large items or often used supplies. Overall, I'm super pleased with the way the cabin turned out. My sister and I spent time just lounging in the space once it was done because it was so lovely.
I was in Alaska in January of 2021 and everything was blanketed in snow. She was still recovering from brain surgery (she was diagnosed with glioblastoma in December of 2020), and this cabin was a catch all space of things. Also all of their belongings were still in storage as they had only recently moved to Alaska from California and they closed escrow the day after she was released from the hospital after surgery. It was challenging timing, but thankfully, they managed to move into their partially furniture home (they bought some of the previous owner's furniture), and bought whatever else they needed until they could unpack their storage unit. It's been six months, and their unit is still have half full, but they are making progress. I came for the second time in May of 2021 and found the land completely different. It was pleasant sunny weather and everything was green and vibrant. It was perfect weather for getting the cabin set up as a homeschool space. It's been six months and their is still work to be done as moving in has been extremely slow because of my sister's cancer treatment. I hope you enjoyed this room makeover!