Here are 20 female role models who are sure to inspire girls and women. Women should be celebrated every day, but on March 8th, International Women's Day, it's a must to acknowledge the courage, perseverance and dedication of women in history who have paved the way for discovery and change.
I've collected over 20 picture books celebrating the achievements of women from diverse backgrounds, from across the world and throughout history. These biographies are well-written, delightfully illustrated and are sure to delight and inspire girls and women.
The following books were reviewed in the video, but I'll share quick thoughts here:

She Persisted: 13 American Women Who Changed the World by Chelsea Clinton is a delightfully illustrated book with short highlighted summaries of 13 American women. The illustrations are soft and beautiful and the stories are short making it great for young children and great for all who want quick biographies to inspire further reading.

I Dissent: Ruth Bader Ginsburg Makes Her Mark by Debbie Levy is an empowering book with strong illustrations and a powerful story about a women whole won't take no for an answer. My daughter and I loved this book and unlike some other biographies, this book held our interest and attention.

Who Says Women Can't Be Doctors? The Story of Elizabeth Blackwell by Tanya Lee Stone is an empowering book. The whimsical illustrations fit the personality of Elizabeth Blackwell perfectly. It's inspiring and leaves you cheering alongside Dr. Blackwell. It reminds you how far we've come and how much further we have yet to go. My daughter and I loved this book. It's well written with energetic illustrations. I highly recommend this book.

The Tree Lady by H. Joseph Hopkins is a richly illustrated book with a turn-pager story. It's simple, interesting and one we have read often. My daughter and I both like this book a lot and have included it in our spring nature units for a couple of years so far with the intention to read it often every spring.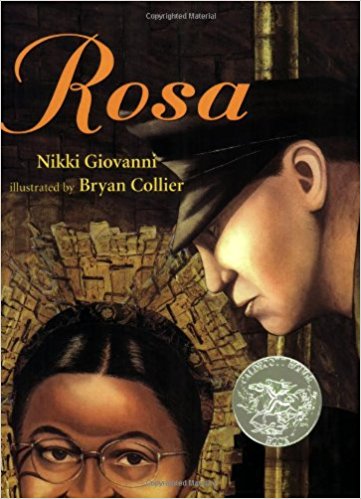 Rosa by Nikki Giovanni is wonderfully written with captivating illustrations. It's informative and strong, yet peaceful. My daughter and I really liked this book. It would be great for Black History Month, a history unit or a unit on peaceful activism and civil rights movement. It shines the light on a disturbing past in a respectful manner that's educational for adults and children.

Rachel Carson and Her Book that Changed the World by Laurie Lawlor could have been a more inspiring book. As it is, it was a little sad, in part because of Rachel's challenges in her life. The illustrations were nice, but not especially memorable or outstanding. I feel the most important achievements of Rachel's are lost in the story and could have been illuminated. Though both my daughter and I didn't care for this book, it did inspire me to learn more about Rachel Carson and my daughter did like the beginning of the book.

Grace Hopper Queen of Computer Code by Laurie Wallmark is a charming witty book. Though it's a full biography, it's not boring or dry. The illustrations are fun, clever and bright. The book is written in an engaging manner that keeps you interested the whole time. My daughter and I really liked this book and I highly recommend it. It also poses many points worth of discussion including age discrimination.

Little Leaders Bold Women in Black History by Vashti Harrison is a fantastic collection of black women and their accomplishments. Each two-page spread contains an adorable illustration and a one page summary. The print is small, but the biography is short and includes enough highlights to inspire further research. We read selections from this book rather than reading it cover to cover. The book covers women from the 1700's to current figures in politics and athletics.

Hidden Figures The True Story of Four Black Women and the Space Race is a work of art. The book is beautifully illustrated, inspiring and well written. The back of the book has individual biographies on each of the four women as well as a timeline. The only issue I had with the book was keeping track of each story and woman. The book was also a bit long for a picture book so my daughter soon lost interest. Regardless, I find this book to be a valuable asset to an home library and would work well for Black History Month, an astronomy unit or a unit on female scientists.

Malala's Magic Pencil by Malala Yousafzai is a wonderful book. The illustrations are gorgeous and the book is sensitively written. It handles difficult situations with grace and respect. My daughter and I loved this book. It's inspiring and will bring tears to your eyes.  I highly recommend it.

Shaking Things Up by Susan Hood is fantastic! It's written in rhyme with whimsy and uniqueness. This collection of biographies is illustrated by 13 extraordinary women. Each biography is quick and precise, skipping the long drawn out chronological biographies of some picture books. My daughter and I really loved this book. It's a page turner, and I highly recommend it.

Margaret and the Moon How Margaret Hamilton Saved The First Lunar Landing by Dean Robbins is a fun, upbeat and inspiring story. It's well-written with comic strip style illustrations. Unlike chronological biographies which can be slow and somewhat boring, this one was simple, quick and interesting. Both my daughter and I really liked it, but my daughter doesn't seem as interested in the picture books about astronomy, so she didn't like this one as much as I did.

Dorothea's Eyes by Barb Rosenstock is nicely illustrated but both my daughter and I didn't care for the story or illustrations. This book would be suitable for a American history unit or female photographers.

Solving the Puzzle Under the Sea Marie Tharp Maps the Ocean Floor by Robert Burleigh is a beautiful book about the wit and perseverance of Marie Tharp. It was informative, inspiring and redeeming. Though I enjoyed this book, my daughter wasn't that interested in it. The book is nicely illustrated with pictures that evoke the ocean and waves.

Ada Byron Lovelace and the Thinking Machine by Laurie Wallmark is a stunningly illustrated book. It captures the life and accomplishments of Ada in a simple relatable way. My daughter and I were moderately interested in this book. Of the two books on Ada Lovelace, we prefer Poet of Science more.

Dorothea Lange The Photographer Who Found the Faces of the Depression by Carole Boston Weatherford was enjoyed by both my daughter and me. We didn't care for the story or illustrations. It would accompany a history unit for the 1930's very well.

The Girl who Thought in Pictures The Story of Dr. Temple Grandin by Julia Finley Mosca is written in rhyming verse which delights my daughter and makes heavy content light and relatable. Unfortunately, I had a hard time following this book and wasn't sure what Dr. Temple's contributions were. The illustrations are cute, but not the kind I especially like. They do complement the way the book is written.

Shark Lady The True Story of How Eugenie Clark Became the Ocean's Most Fearless Scientist by Jess Keating is an awesome book! My daughter and I loved it. The illustrations are bright and inspiring and the story is smooth and interesting. I highly recommend it.

Look Up! Henrietta Leavitt Pioneering Woman Astronomer by Robert Burleigh is a calming book with soft illustrations. Though my daughter didn't really care for this book, I think it makes a great book biography for any astronomy or history unit.

Rosie Revere, Engineer by Andrea Beaty is a delightfully illustrated picture book written in verse. My daughter and I loved this book, especially my daughter who loves books and poems that rhyme. The illustrations are so fun and whimsical. They are worthy of being framed. This is not a specific biography, so it's a bit more fun to read compared to the other biographies in this list.

Women in Science 50 Fearless Pioneers Who Changed the World written and illustrated by Rachel Ignotofsky is a fantastic resource for amazing women in science. Each two-page spread contains an illustration in monochromatic colors and a one-page brief biography. The print is small and not written as lively as a picture book, but this is a great collection of women in science. We read selections to accompany our various homeschool units.

Caroline's Comets A True Story by Emily Arnold McGully was moderately interesting. The illustrations were not our favorite. The story was easy enough to follow, but contained superfluous information making it hard to know what Caroline was known for. The book offers many points worthy of discussion such as women in science, women being paid for their work and distinguished for their discoveries, childhood illnesses and ideas that women with stunted growth or scars can't get married. Though this book wasn't our favorite, it would work well as a period history book, a biography, a women in science book and an astronomy book.

The Right to Learn Malala Yousafzai's Story by Rebecca Langston-George is a fantastic and inspiring book. It's beautifully illustrated and my daughter and I loved this book. This book addresses the violence and injury of Malala sensitively, but with more detail than other picture books about Malala. Reader discretion is advised if you are reading this with especially sensitive children. This book is likely to make you cry at the injustice and then cry from the triumph of Malala. Highly recommend this book.

Ada Lovelace Poet of Science The First Computer Programmer by Diane Stanley is whimsically illustrated. This book cover's Ada's life from the time she was a child through her friendship with Charles Babbage. It's informative and fun and my daughter and I really liked this book. The illustrations work so well with the story.

Swimming with Sharks The Daring Discoveries of Eugenie Clark by Heather Lang is an inspiring biography of scientist Eugenie Clark. Of the two books I featured on Eugenie Clark, my daughter preferred Shark Lady. The illustrations are a bit dark and feel like you are deep under water.

Life in the Ocean The Story of Oceanographer Sylvia Earle by Claire A. Nivola is a simple biography with delicate illustrations. There was nothing outstanding about this book, but it would be nice to add to a unit on oceanography. My daughter was moderately interested in this book, though it did inspire her to build a city under the water.
Bonus Books:
The King's Daughter and Other Stories for Girls is a bonus addition to this list. Though it's not a biography, I've heard wonderful reviews about it. We have yet to read it.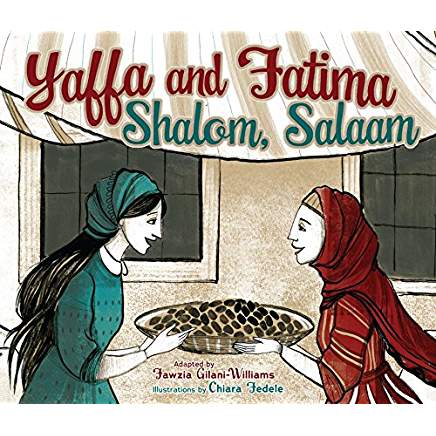 Yaffa and Fatima Shalom, Salaam by Fawzia Gilani-Williams is an awesome book! My daughter and I loved it! It's a beautiful story of two women from diverse religious backgrounds who love and look out for each other. This book was a fast fun read. It's gorgeously illustrated with a story about acceptance, tolerance and friendship. I highly recommend this book.
Find me here:
twitter
instagram
facebook