It's that time of year where Ramadan is fast approaching and plans have to be set before it's too late. Struggling to find ideas for your Ramadan calendar? Looking for fun educational and candy-free ideas? Look no further! I've compiled 20 ideas that are educational, artistic, Islamic and calorie free!! Fill your calendar with inspirational and creative ideas and watch your children jump with delight each day. You can get even more creative and mix and match these ideas!
Here's a quick overview of all 20 ideas plus bonuses!
1-Lunar Peg Dolls
Let's start with our latest addition to the Ramadan Calendar: Lunar Phase Peg Dolls! This was a labor intensive project that I intend to use each month as part of our calendar peg dolls. We did all thirty phases of the moon and tucked each on into the pocket of our Ramadan Calendar.
2- Companion Cards
The second option is to fill your pockets with historical or Islamic information. Several years ago, my then 12-year-old wrote out mini biographies for 30 companions of the Prophet based on the book Companions of the Prophet vol.1. I typed them up and printed them out. I then used my Silhouette Cameo to cut out the cards to fit into our calendar. It was another time-consuming endeavor, but the fruits of our labor are enjoyed each year.
3-Dua/Prayer Cards
This is one of my favorite inserts. One year we made Dua cards and on them, I wrote prompts for people we should pray for such as 'the lonely', 'the needy', 'the women who are pregnant', or 'those who have passed away'. Under the header was lines for people's names to be added. We wrote in names and remembered to keep them in our dua throughout the month, but especially on the day that card was in the calendar.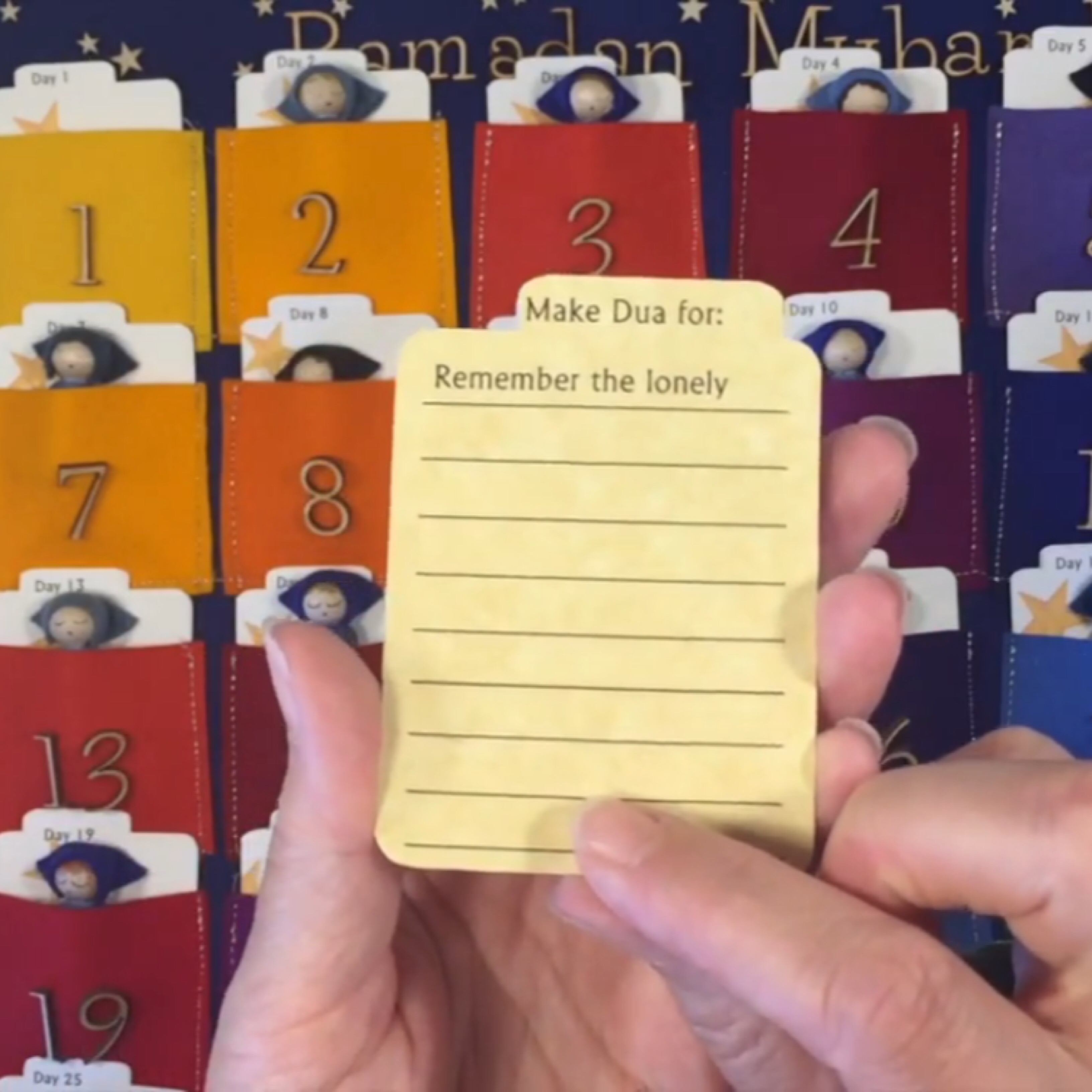 4-Trivia Cards
You can DIY your own trivia cards or you can use games cards from an Islamic game. In our case, we have both Hadith Challenge and Qur'an Challenge and both sets of cards fit just barely in our calendar. It's a fun way to add a little Islamic education throughout the month. Depending on how competitive your family is, you can keep track of who gets the right answers and award a prize to the one who answers the most correct questions.
5-Activity Cards
You can make or buy Ramadan Activity cards. I made a set several years ago with 30 activities and projects for the month of Ramadan. Some are easy like hosting iftar or bring food to your neighbor and some are a bit more time-consuming like making graham cracker masjid or watercoloring the Cave of Hirah.
6-Photos with written memories
I realize finding some printed family photos may not be as easy as it used to be, but if you have a few laying around, trim them down to size or paste them onto some scrapbook cards for a memorable Ramadan experience. One year, my mom and I exchanged Ramadan Calendars. She filled hers with pictures and I did too. We exchanged calendars and each day it was quite a treat pulling up one of the cards.
7-Trading Cards
Trading cards fit perfectly into the pockets of a Ramadan Calendar. They are small, usually affordable and provide unique excitement each day. One year my mom and I exchanged Ramadan Calendars and she put Yugioh trading cards in each pocket. We bought ones in which three cards were in a foil wrapper and alternated the days in which our children pulled cards. It was exciting for them to open the package and see which cards they received.
8-Mini Gem Bottles with Books
Don't worry if some of the items you want to pair with your Ramadan Calendar don't fit into the pockets. You can have one big gift for the start of Ramadan that accompanies the treat each day. In this case, our little mini gem bottles fit perfectly. They are tucked down, so you can't see what gem it is. Each day when you pull a gem bottle, you can refer to a book on Gems and Crystals to learn more about the gem. Fun, exciting and educational, this idea is a winner.
9-Rock of the Day
Your rock enthusiast child will love this next idea. GeoCentral sells rock kits with various types of rocks. A rock a day in each pocket paired with a Rock and Mineral book will delight and educate your child all of Ramadan. In fact, this is a good idea for a unit study, too!
10-Shells
Nature-Watch sells amazing educational kits. One of our favorites is the seashell bracelet making kit. It comes with a pound of shells, tide pool specimens and the materials to make 25 bracelets. You can add a book on Shells to this idea and match up and learn more about the shells in each pocket by referring to the book.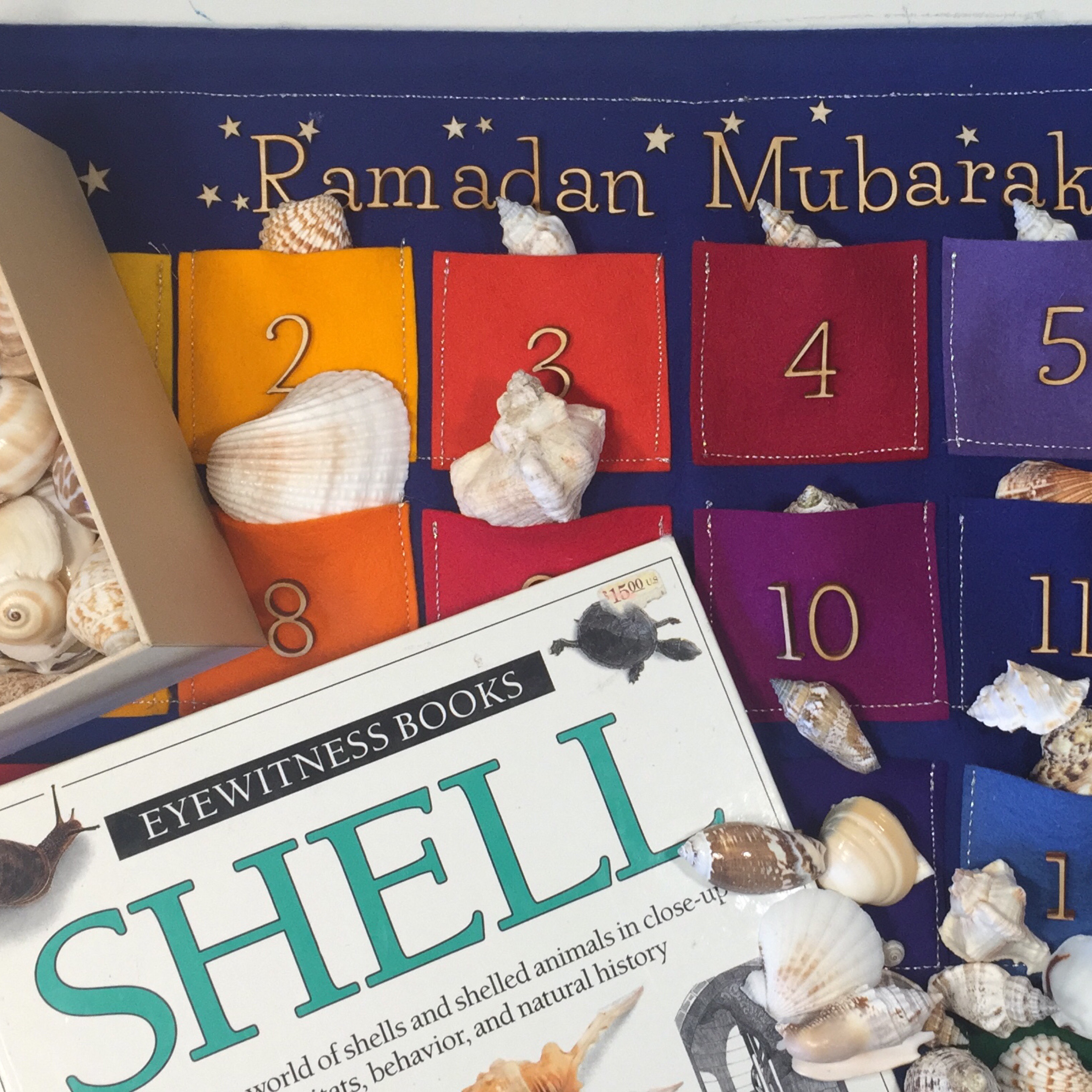 11-Seeds
Putting a seed packet into each pocket isn't just an affordable idea, it's educational! Each day provides a new opportunity for an activity. Pairing a child's shovel set and a watering can brings this idea to life. You can spend the whole month planting seeds and spend the next few months watching the plants grow. You can view this as a metaphor for reaping the benefits of Ramadan for the year 🙂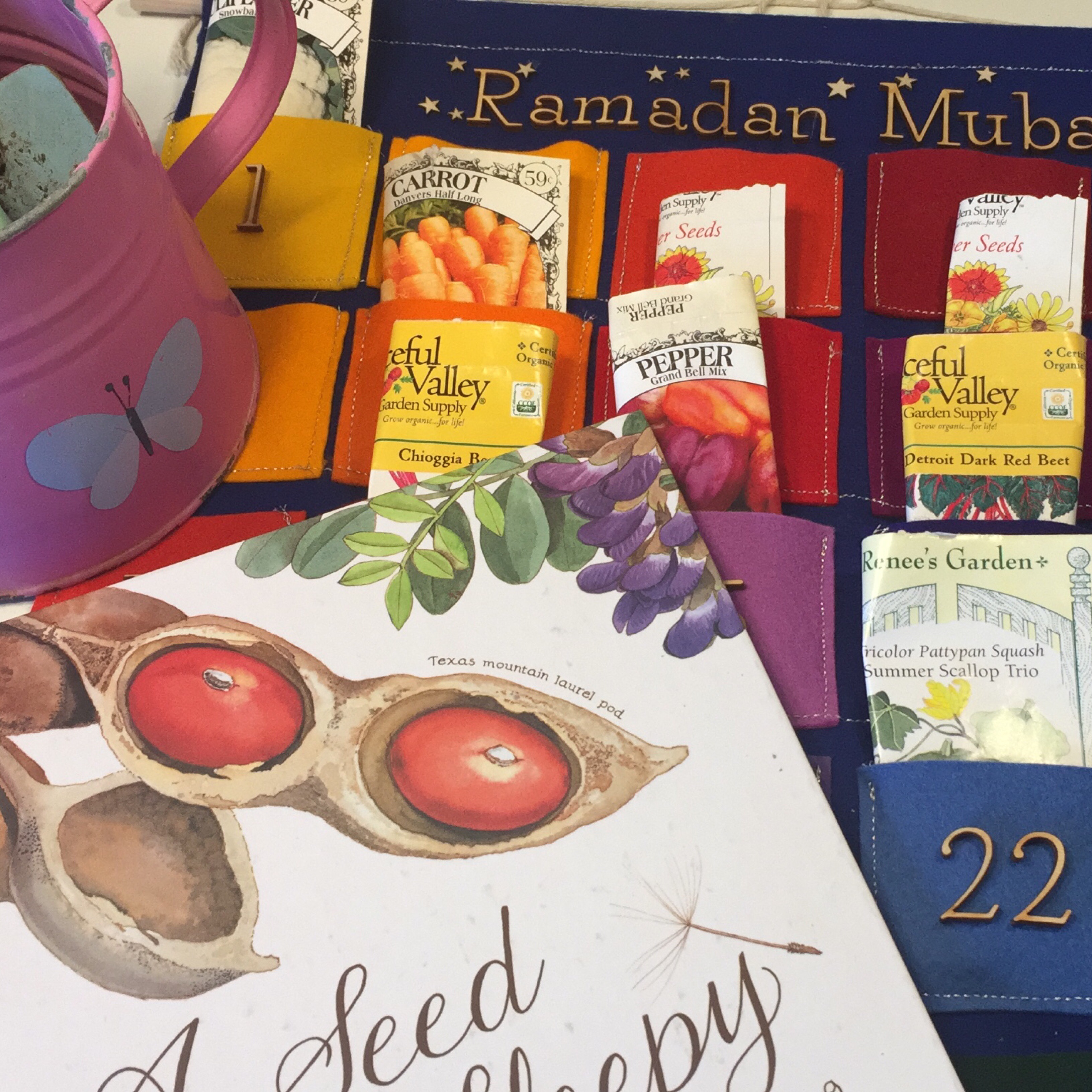 12-Educational Toys
Life cycle educational toys are small and perfect for tucking into the pockets. We got a set of three life cycle toys from Nature-Watch along with some books on bees and butterflies. Again, pairing a larger item with the small ones ensures that the educational component is extended.  You can even use existing toys, but pair it with a new book or project that's too large to fit in the pockets.
13-Break up a Toy
Maybe a large toy is on your child's wishlist. Consider breaking up a large toy with small parts and offer a few pieces each day. Especially if pairs with a companion toy or something the child already has so that the toys are not played with in isolation. Year ago we got a Busy Bugs toy from Discovery Toys. The little bugs fit perfectly into the pockets and the cards are used to match colors and create patterns.
14-Mini Plastic Toy Figurines
There's no shortage of mini plastic toys in any child's toy box. What I like about getting toys that are similar to the ones my children already have is that I know they like them, play with them, and there's already a place to store them if we buy more! If you don't wish to buy more, but would rather get a large toy to complement the small figurines, you can fill the Ramadan calendar with existing toys that go with a new large toy that you can give to your child at the start or close of Ramadan. The works great for multiple children too. You can alternate the toys in the pockets for each child.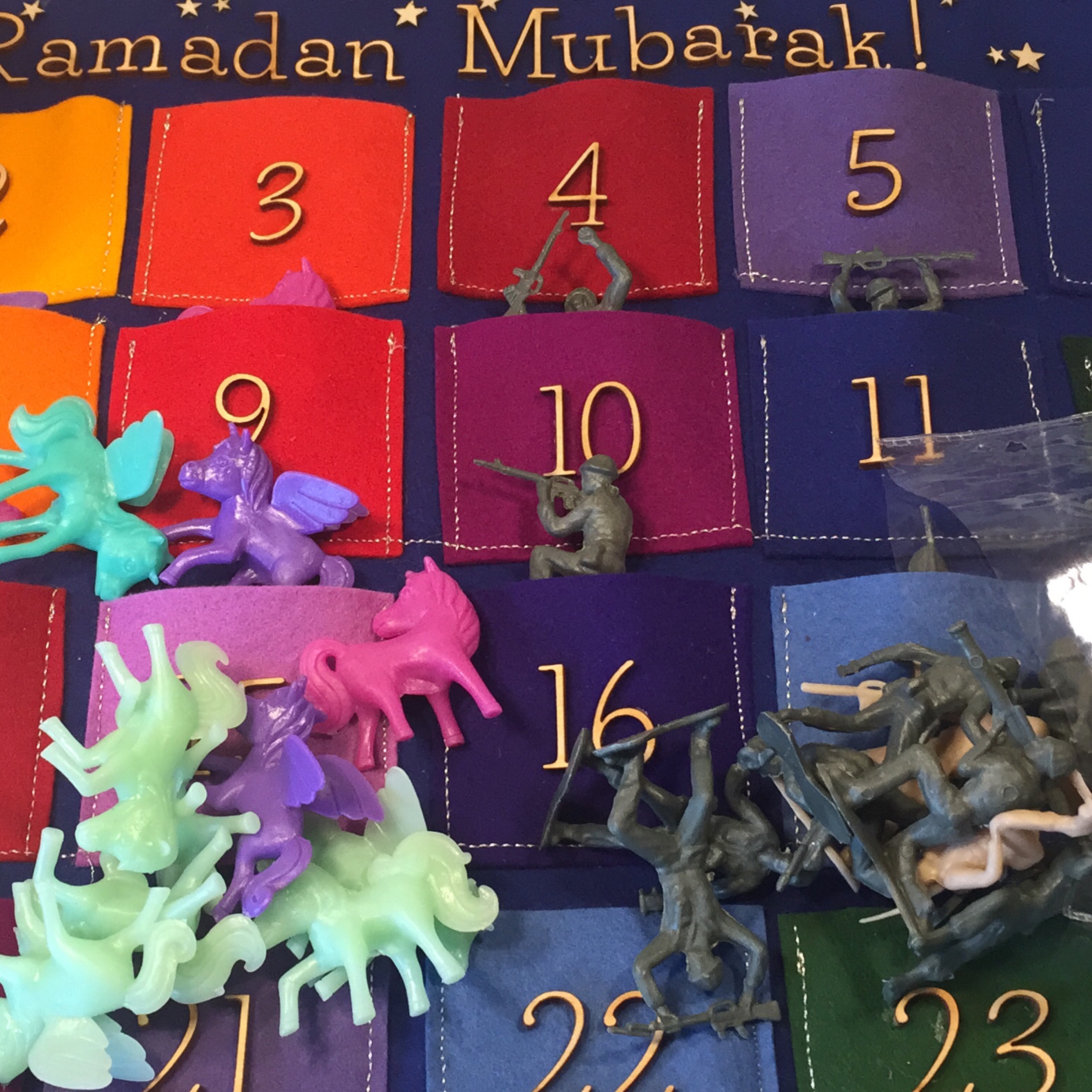 Bonus: Educational Toy Figurines
If you want an educational component to your plastic figurines, Safari Toob kits are filled with educational figurines with themes from history to science.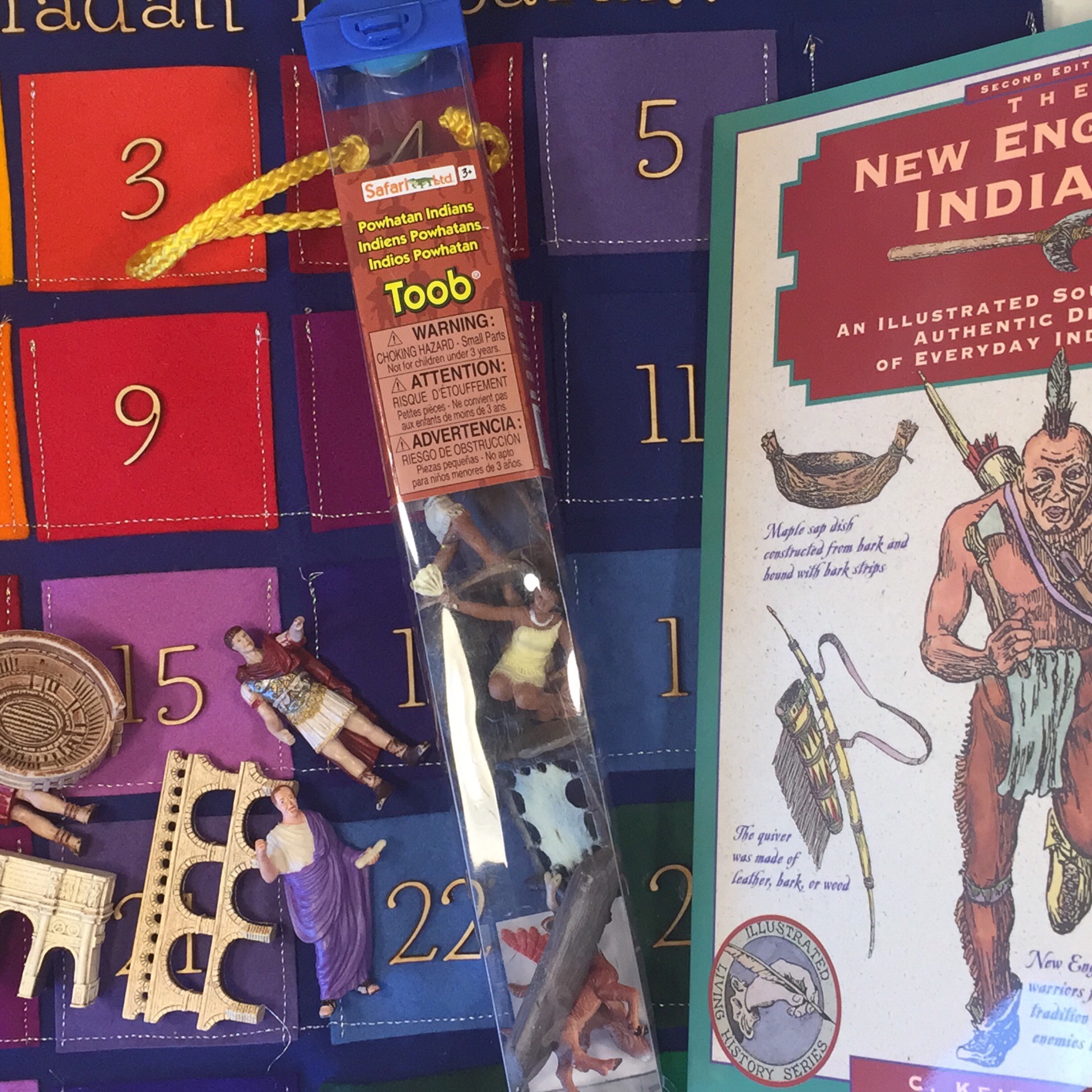 15-Art Supplies
This is one of my favorite ideas. Fill your calendar with art supplies, and it's  sure to spark creativity for the entire month and beyond. If you have young children, you can fill it with sidewalk chalk or block crayons. Older children will enjoy color pencils and decorative scissors. Pair watercolor paper, watercolors and drawing paper with this idea. Go a step further and create an art station for your children. It can be their big Eid gift! Your little artist will be over-the-moon!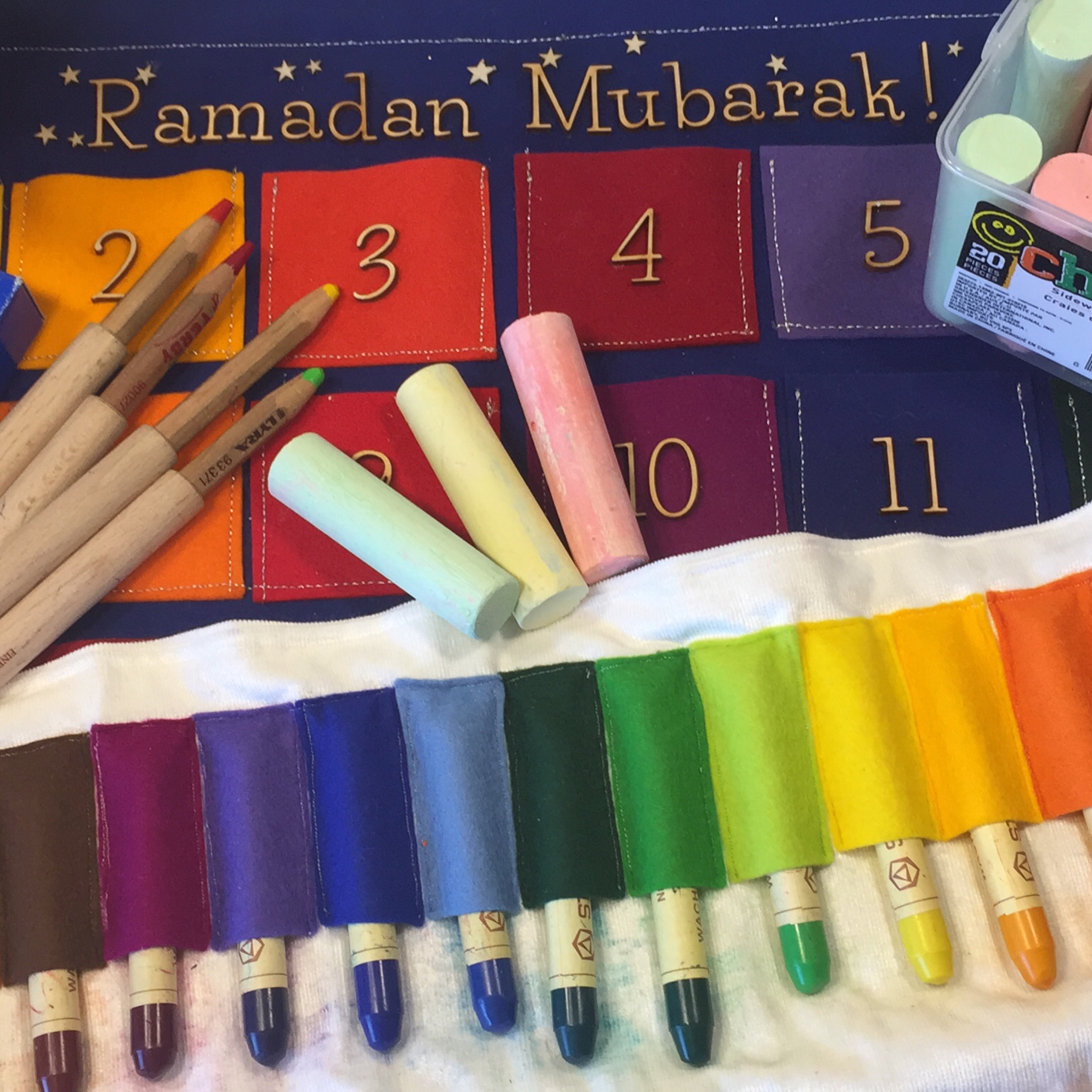 16-Peg Dolls and Handwork
Peg dolls and finger puppets are fun to make. I love making them for and with my children. Filling a calendar with multiple sizes of peg dolls and finger puppets will thrill your little crafter. The peg doll books by Margaret Bloom would work wonderfully with this idea. Gift the book at the start of the month and watch the inspiration and creativity soar. If you need ideas, I have tutorials for peg dolls and finger puppets.
17-Puzzles
This is a new idea for us. My children were never big puzzle lovers, but my youngest, who is now 7-years-old, loves them! We recently got a 100 piece puzzle for her which is just the right challenge for her. Putting several pieces into each pocket would be an exciting project for children that could last the whole month. Play around with the amount and sizes. I recommend you assemble the puzzle first and add pieces that coordinate into each pocket.
18-Legos
One year I purchased a large Lego for my two boys (my oldest had grown out of them, but helped). I decided to break up the Lego set into 30 parts and have the children build a little bit each day. The idea was fabulous, but the execution failed. The pieces were randomly sized and didn't fit well into the pockets and it was more challenging than when we expected to break up the Lego. My children ending up waiting to the end of the month to assemble the Lego.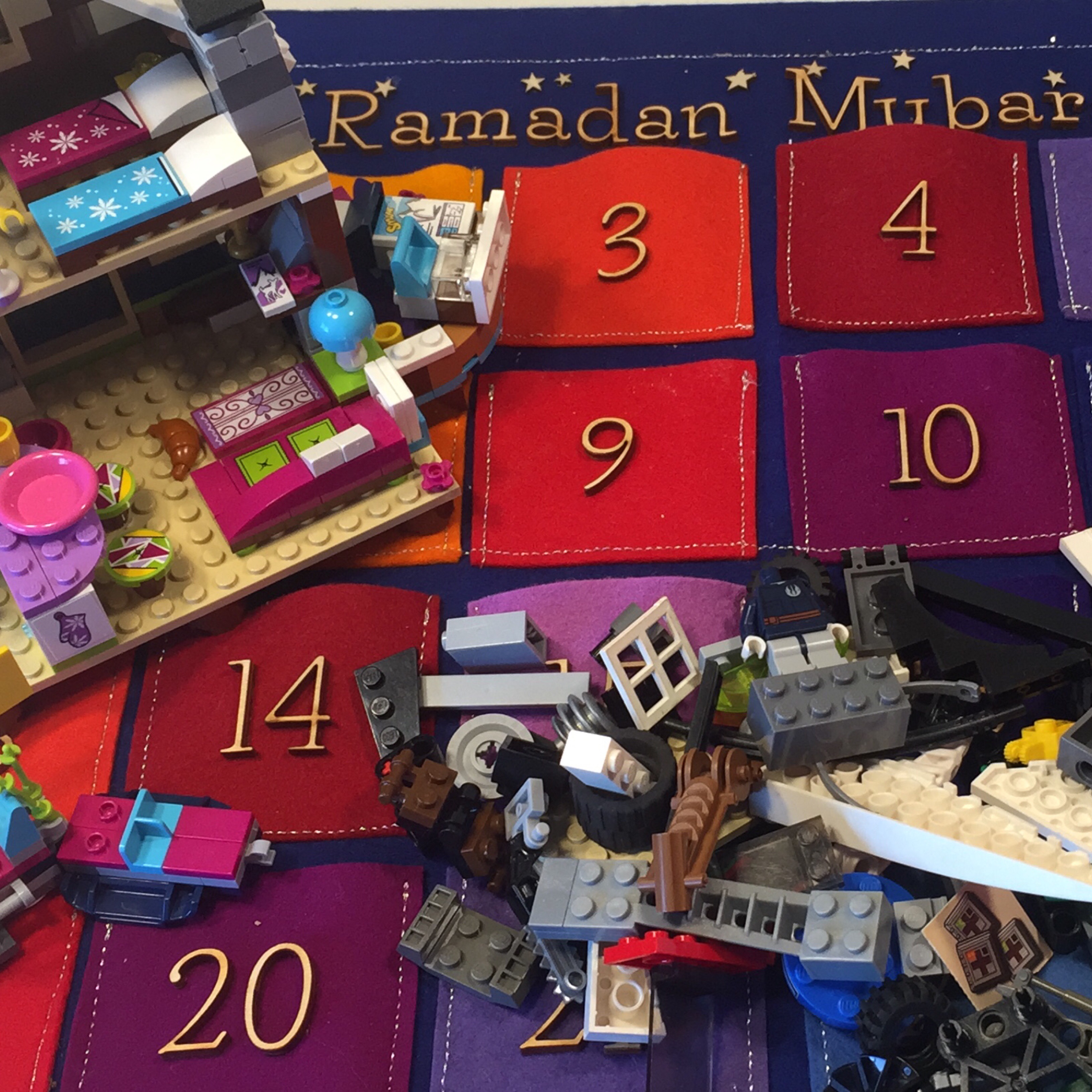 Bonus: Repurpose existing Legos for a new challenge
We've been collecting Legos for over 15 years. We have an impressive collection and sometimes many of them don't get played with. What better way to repurpose Legos (and other small type toys) than to put 10-15 pieces into each pocket and challenge yourself to build something with them. Continue the building throughout the month and see what you can make. Of course the perfect Eid gift would be a new set of Legos 😉
19-Toy Cars
Even if you don't fill your Ramadan Calendar with new toy cars, it would make an ideal storage solution. The cars fit snug inside and just the boot of the car sticks out making it easy for little hands to grasp the car and pull out. Your race car enthusiast will love getting a new toy car each day of Ramadan. Pair a toy parking garage or other large set as an Eid gift.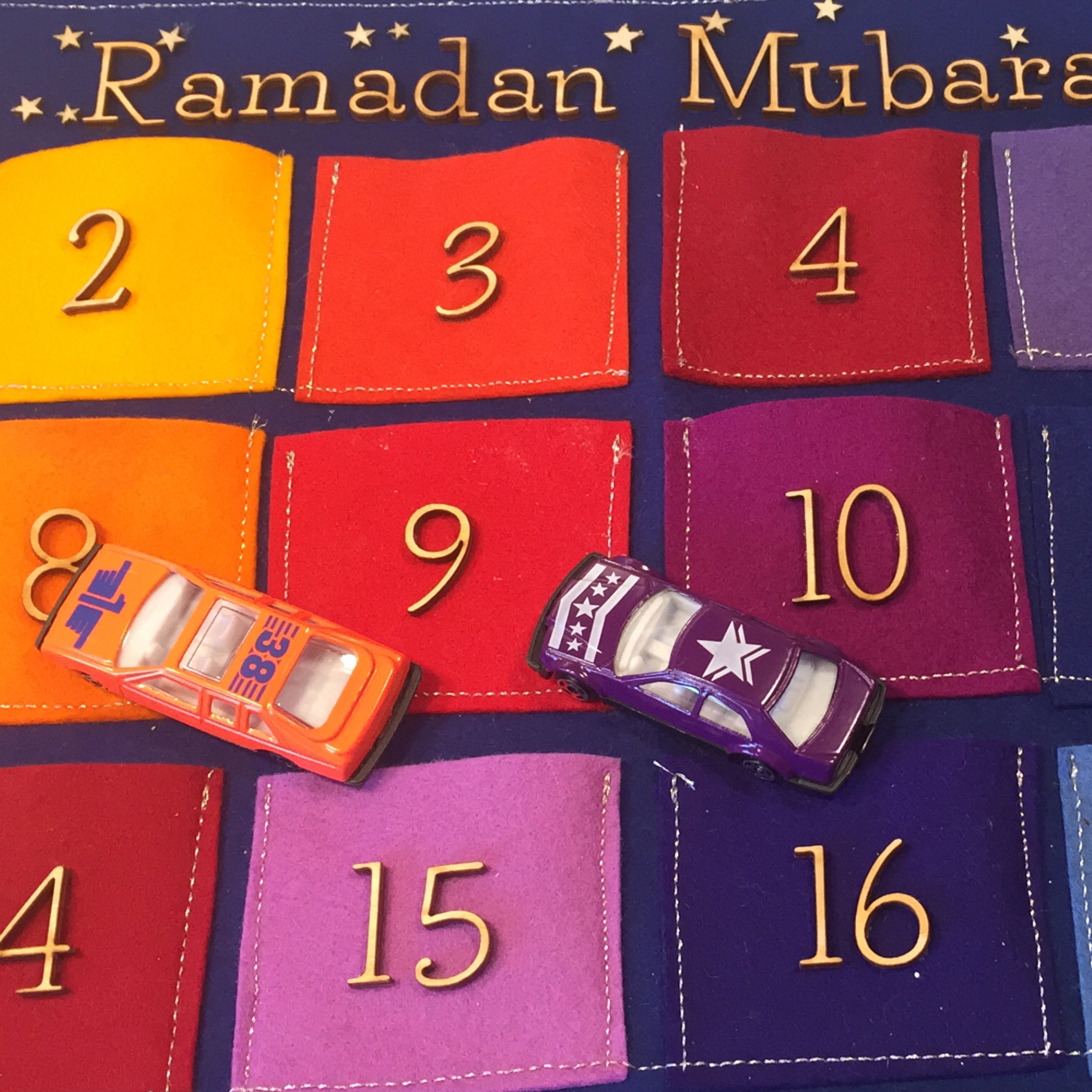 20-Glow Sticks
We made it to the end! My children LOVE glow sticks. We find them at the Dollar Tree. But don't be deceived, the price adds up! Fill your Ramadan calendar with glow sticks of various size and color. What fun it would be to snap one each day and use it to light your way at night as you walk or drive to the Masjid for Taraweeh prayers or to play with outside with friends.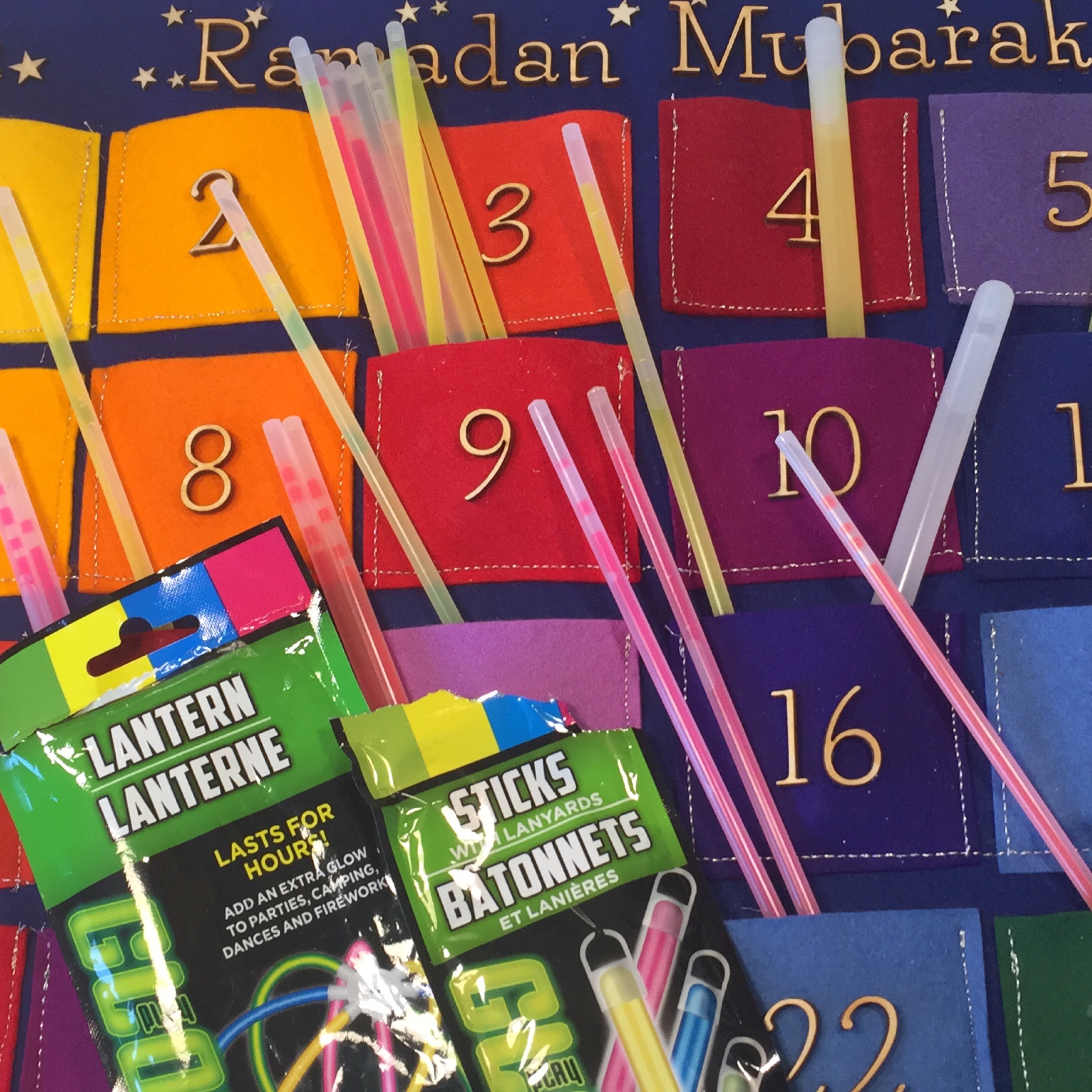 This list would not be complete without your ideas! What's in your Ramadan calendar?
Find me on Twitter, Instagram and Facebook