I've been raving about this super simple yet incredibly delicious soup on Instagram recently and now I'm sharing the recipe with you. It's not an original recipe, I got this from my friend Megan, who got it from her friend Lubna who got it from someone else. Today I'll share my version of this delicious, wholesome, filling, warming, soup. It's awesome. It's my new favorite, and I crave it every day. And the best part, you can make it with pantry items! Woohoo! Who doesn't like a meal or soup you can whip together quickly from pantry ingredients.
I've added a few garnishes that are optional, but definitely take this soup over the top. You can also omit the garlic and cayenne pepper. While I like a touch of spiciness, many of my friends prefer it without the cayenne pepper.
Tomato Soup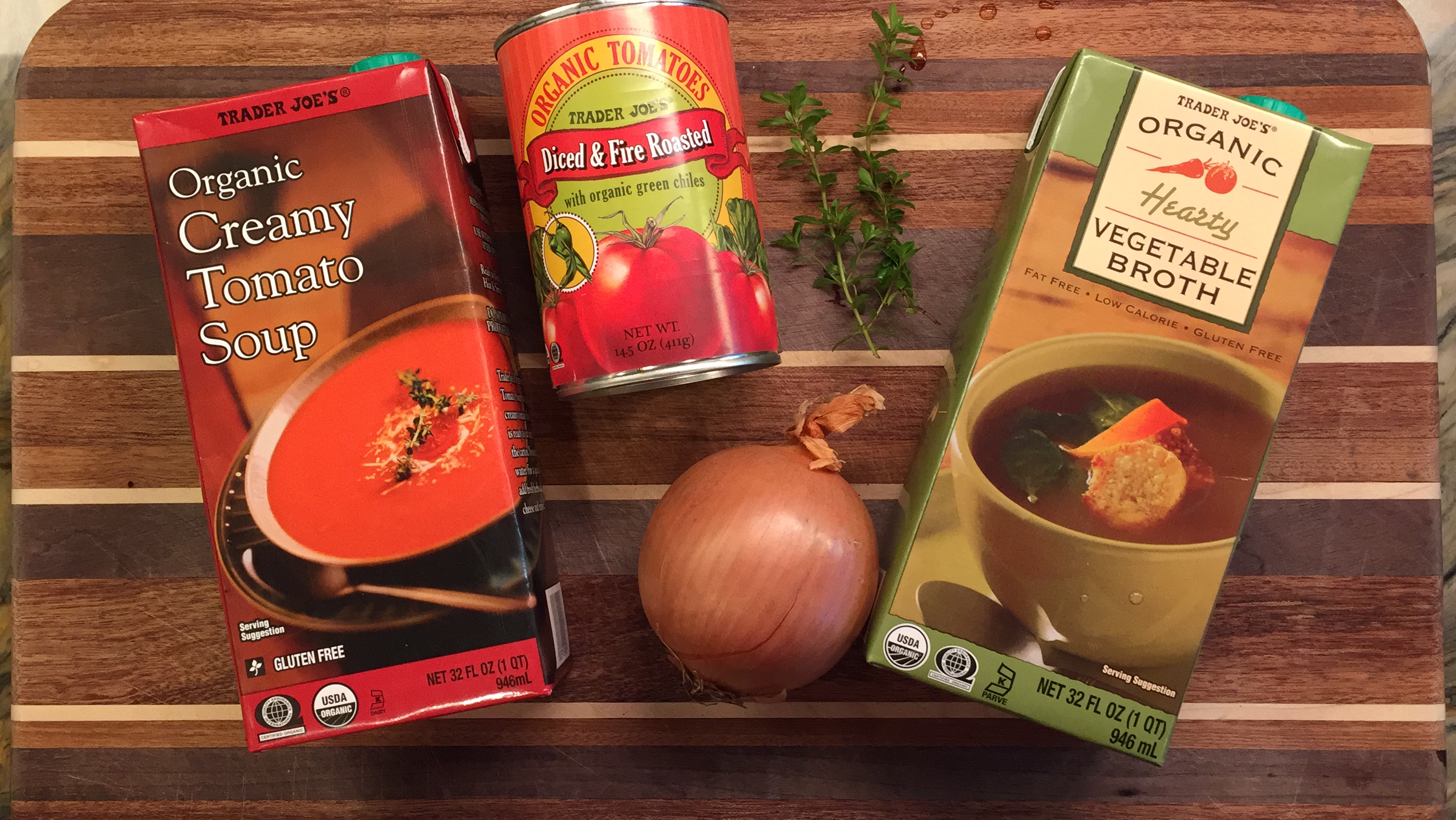 The basic ingredients for this recipe are simple:
1 carton of Trader Joe's brand Organic Creamy Tomato Soup
1 carton of Trader's Joe's brand Organic Vegetable stock
1 can of Trader Joe's brand of Diced and Fire Roasted Tomato chunks
1 medium sized onion-diced
Spices: Salt (to taste, about1/2 to 1 teaspoon), garlic (1 teaspoon fresh mashed) and cayenne (optional 1/2 teaspoon)
Olive oil, or oil of your choice for sautéing onions and to drizzle on top if you don't want the garnishes and soup toppings.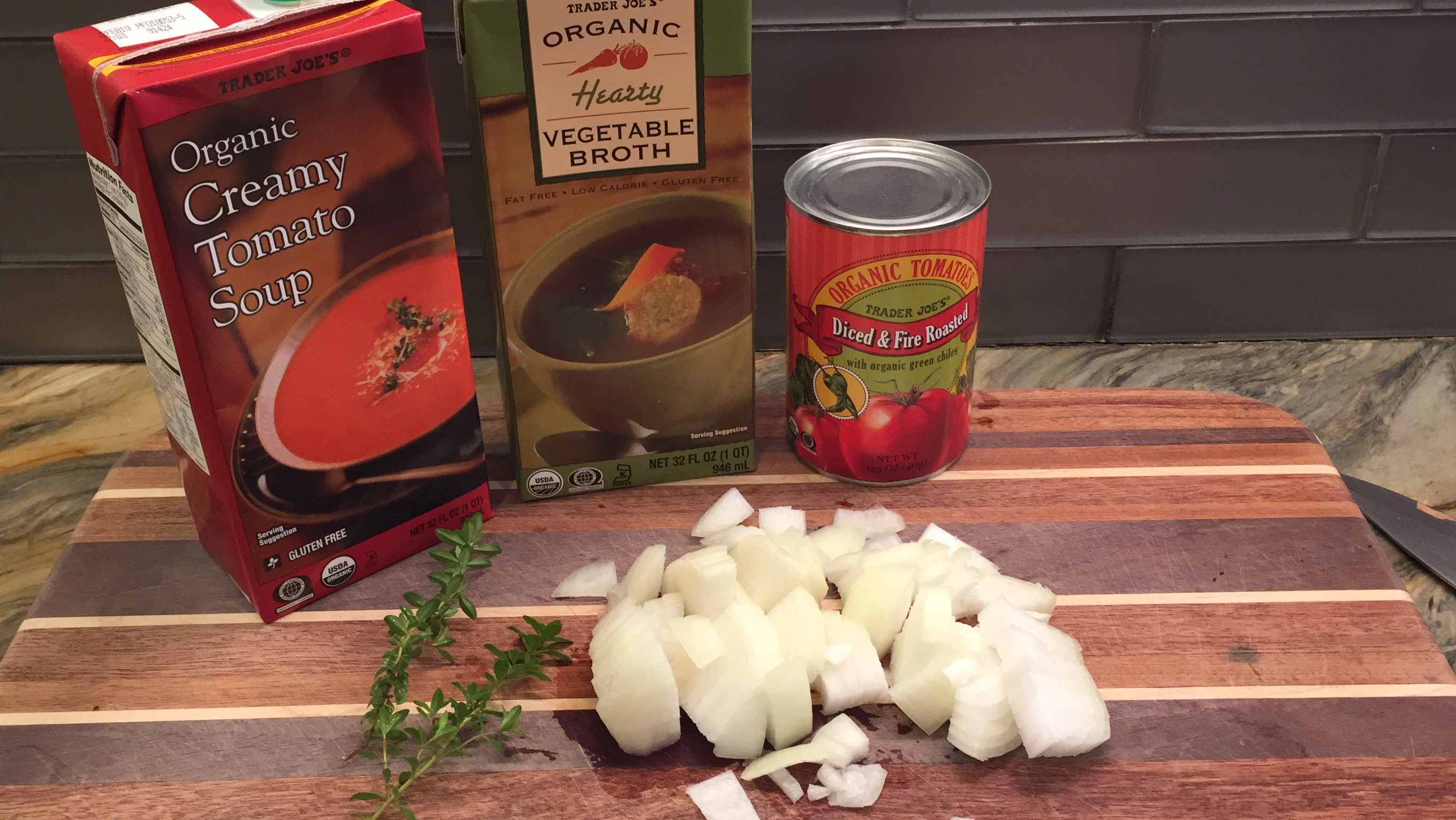 Garnishes are optional, but really take this simple recipe over the top:
Add 1 teaspoon of cream, a sprinkling of aged cheese and a bit of thyme to transform this simple soup to a gourmet soup.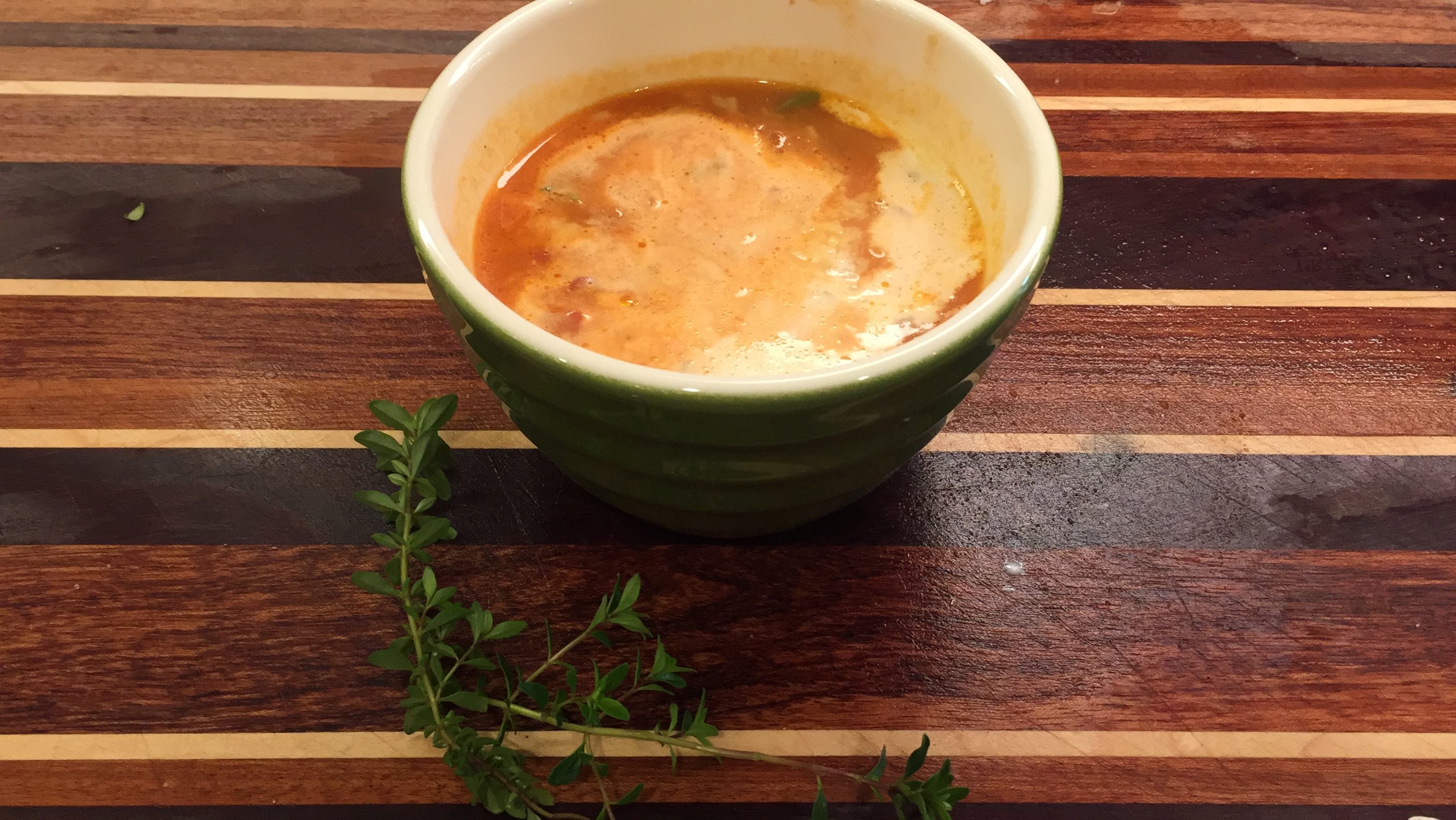 Directions:
Dice onion and toss in a hot soup pan with oil. Sauté for a few minutes until just golden brown. Add Fire Roasted tomatoes and let that warm through, about 30 seconds. Turn up the heat and add the vegetable stock and creamy tomato soup. Add seasonings. Watch soup so it doesn't boil. As soon as it's heated thoroughly, reduce heat to the lowest setting and let it simmer for 5-10 minutes. You can let it simmer longer or reheat this soup. It's very forgiving. Just don't boil it or leave it simmering without the lid, you'll end up concentrating the soup as the water boils off.
Ladle the soup into soup bowls. Shallow bowls will allow the soup to cool quickly, while deep bowls will keep the soup hotter longer. Garnish while hot so the cream can warm (or heat the cream prior) and the cheese can melt. Serve with soup crackers, or my favorite, potato pancakes.
Serves 12 as a first course or 6 as a meal.
Share your alternative to this tomato recipe in the comments. I can't believe how much I enjoyed this tomato soup and would love to try others.
Check out more food recipes, including my favorite, pizza puffs, by clicking on the playlist here.
Find me on Twitter, Instagram and Facebook