Appetizers can take as long to make as some main dishes and often they are overlooked even when greatly enjoyed. Personally I don't care much for making appetizers, though I do enjoy eating them! But you have to be mindful because it's easy to fill up and these miniature treats and find you are too full for the main meal. On occasion, we will make a whole meal out of appetizers, and when eating out, I find the portions of appetizers to be just right instead of a full meal. I've included a few soups and salads that can work well as appetizers, but I encourage you to check out the blog posts on Soups, Salads, Rices, Meats, Main Meals, Desserts and Drinks for even more culinary ideas.
Newest recipes added here
Artichoke Dip
There are never leftovers of this appetizer…never. In fact I need to double or triple the recipe everytime. The recipe I'm sharing for this artichoke dip is doubled, but you can cut it in half if you are serving 4 people of less. I learned this recipe from my friend Laura, who learned it from her mother's friend, who may have learned it from someone else. Because this dip is so rich, I like to pair with lighter salads and appetizers and serve it with plain crackers.
The recipe is as follows: In a large bowl, mix 2 cups of shredded parmesan cheese, 1/2 cup of mayonnaise, 2 14 oz. cans of artichoke hearts (unmarinated, and squeeze out the excess water), 1-2 teaspoons of crushed garlic (or 2 cloves per can), and 1/1 teaspoon of fresh ground pepper. I use less mayonnaise than the original recipe calls for, so you may double the mayo for this recipe.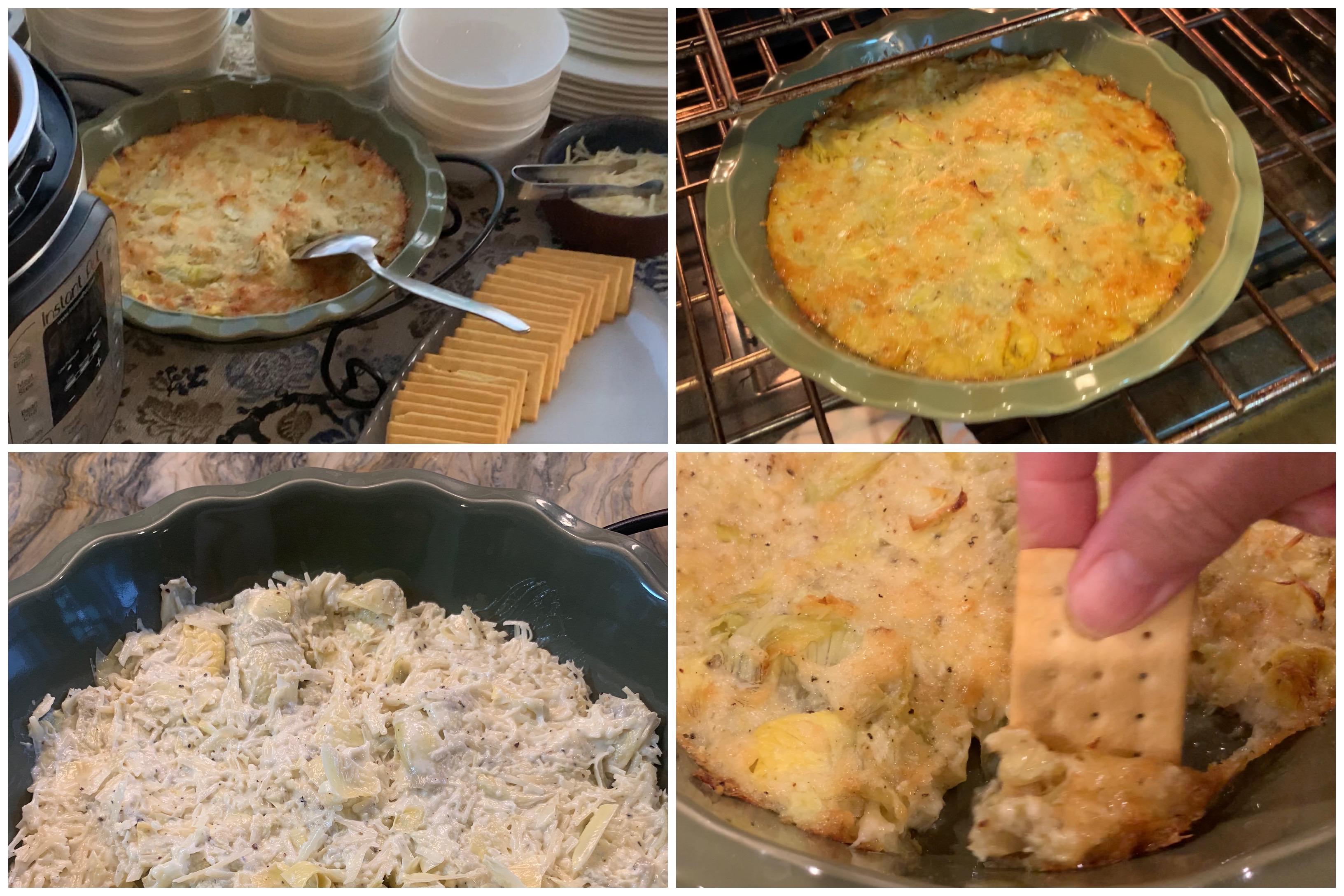 Stuffed Eggs (aka Deviled Eggs)
I like my eggs hot or as crepes, but chilled stuffed eggs is a healthy, filling and nutritious appetizer that's easy to make and easy to enjoy. Add these finger food, single bite options to a daytime gathering or to complement the chips and salsa for a nice balance to the food spread. This simple dish is quite versatile. You can add or omit just about anything to the yolks which make up the filling. My next attempt at stuffed eggs is a sweet version with vanilla and cinnamon. For this recipe, I used 6 eggs and steamed them for 7 minutes and then left them in the pan for another minute. This gives you a soft center. I recommend cooking for anther 1-2 minutes for a firmer yolk. I added 1.5 tablespoons of mayonnaise, .5 tablespoon of mustard, and a sprinkle of salt and pepper. My personal twist is to add a generous sprinkle of paprika and a sprinkle of cayenne. I garnished with fresh fennel and sweet pea flowers.-April 2021
---
Hummus | Sesame-free & Allergy-free
This isn't your traditional hummus recipe. For one thing, you'll find that I didn't use tahini. While I love tahini and add it often to our homemade hummus, I omitted it this time, and it tastes just as good! Hummus as a food is generally pretty safe for most known allergens. It's one food my son (who has many allergies) can eat often and safely. But if you have a sesame seed allergy, you know that you can't even be around people who are eating hummus. So this recipe features the basics of the beloved hummus ingredients with no tahini (sesame seed paste). It's possible I like it even better! One thing I do like is using a lot of lemon and garlic. While I share my version of hummus, you may find that you prefer more of one ingredient and less of another. One version my family loves is with curly parsley. We learned that version of hummus from our Palestinian friend. If you want to make this recipe even faster, just use canned chickpeas. I would recommend you warm them up first. One thing you'll find about using canned chickpeas is that they are make a smooth hummus. I found that I could never achieve a smooth hummus cooking my garbanzo beans on the stove, even for hours. But once I started using my Instant Pot, I found that my hummus was much smoother, though maybe not quick as smooth as store bought. The basic ingredients I use for hummus are garbanzo beans, lemon, garlic, cumin and salt. I use a dash of paprika and cayenne, but those are optional. They do make nice garnishes sprinkled on top with a sprig of parsley and a pickle. -April 2021
---
Guacamole | Non-Spicy Simple Recipe
I am using my new volcanic rock mortar and pestle to make guacamole. While I've been making guacamole with a plastic guac masher, I bought this guacamole mortar and pestle a couple years ago to grind wheat berries and whole spices. My guacamole utensil broke recently, so I decided to use this gorgeous mortar and pestle rather than use a fork which is a suitable alternative. I found that the mortar and pestle wasn't as easy to use for avocados as it was for garlic. I've gotten a lot of use from this mortar and pestle, but I probably won't pull it out just to make guacamole as I find using a fork much easier since my guacamole utensil broke. For this recipe I combined 4 small crushed cloves of garlic with 2 avocados, half a small red onion finely diced, two limes and half a lemon and a bit of fresh cilantro. I seasoned with a half teaspoon of salt. Sometimes simplicity outweighs a rich ingredient list. Usually I add tomatoes and jalapenos to my guacamole, but as my daughter didn't want either, I found that this combination brought out the flavor of the avocados in a way that has been overpowered by other flavors. I like a citrusy guac, but if the addition of the lemon is too much, simply omit or add juicer limes. Go easy on the salt to begin with. You can always add more avocados if you over salt, or extra tomatoes as tomatoes need a fair amount of salt. -April 2021
---
How To Make Lebanese Meat Pies
These Lebanese meat pies were an immediate winner in our home. Everyone loved them and in the years since we've learned how to make them, we still do with some modifications. The dough is a dense, dry and flavorful dough that bakes up smooth and delicious. It calls for yogurt and oil which provide a rich flavorful base for the meat. In the years that followed us making this recipe for the first time, I regularly omitted the yogurt because our son has a life threatening dairy allergy. Because the meat is so flavorful, we aren't missing the yogurt in the dough, though I do prefer it. Also, some of my children don't care for tomatoes, so we often leave them out and the lastly, if I don't have lamb, I'll use ground beef which is a distant second option. The flavor the lamb is incredible compared to ground beef. If you don't have access to pomegranate syrup you can leave it out, but it adds a sweet tanginess that distinguishes these meat pies, as does the seasonings which are ones we don't typically use in our cooking, so these are unique for us. However, if you cook with allspice, cumin and cinnamon often, these meat pies might not be as special for you as they are for us. Lastly, the pine nuts add a buttery soft crunch that's the perfect garnish to this appetizer or side dish.
---
Moroccan Spicy Green Beans
I've seen green beans in tomatoes in many different cuisines so I don't immediately think of these are being Moroccan, but I have to admit, while I enjoy eating this one, I have never made it before or any variation of it! We don't eat a lot of green beans and when we do, it's simply grilled with olive oil and seasoned with salt and pepper. After making this, I'll definitely be adding this as a side to some of our other meals and since we cook a lot of Indian food, I can see myself adding more Indian spices as well. Here are my tips for this recipe. Don't overcook the beans. I made that mistake and they were too soft by the time I plated them. Also, mind how much liquid you add. I substituted homemade chicken bone broth for water and I love the additional flavor that gave this dish. But, I added too much! Go easy on the liquid as the tomatoes give off a lot of liquid, especially if you leave the seeds in.
---
Spicy Moroccan Carrot Dip
We often head to the kitchen when doing our homeschool unit studies as this adds flavor to our lessons. Sometimes we simply cook a single recipe, other times, like today, we cook up a whole feast! But this was mini feast and included dishes you might not immediate think of as Moroccan. When I think of Moroccan food, I think of tagine, couscous and harira. Those our recipes we have been making for years, so I decided to add some new things that are not so different to some of the recipes we already use. However, this carrot dip was a first for us. While I usually only make half the recipe to start out with, this time, I needed to add more carrots because the spices were a bit strong for us. In the end, only my 14-year-old son really liked it. The rest of us weren't so keen on it. If I made it again, I would reduce my spices, especially garlic and ginger as they are extra potent when they are raw.
---
Roasted Potatoes
This isn't just any roasted potato recipe, this happens to be one of my most requested recipes and one that's always a winner, even when I don't think they turned out so good. The recipe is simple and the prep work minimal, but the real reason behind the success of this recipe is the raw ingredients and spices. You can use golden potatoes or russet, but save the sweet potatoes and yams for a different recipe. One other note, the smaller you cut your potatoes, the less time they'll need to cook and the crispier they'll be. We like them like that. We also like them slightly more seasoned than how I showed in the video. Play around with the proportions until you find something that works.
Recipe: 3 pound of potatoes cut into small to medium cubes 1 teaspoon of garlic powder 1 teaspoon of cumin 1/2 teaspoon of cayenne pepper 1/2-1 teaspoon of salt Heavy drizzle of olive oil
Cube potatoes. Season with spices. Toss well until all potatoes are covered. Spread evenly over sheet pan. Bake at 430 degrees for 30 minutes. I used a convection bake oven, and I really think that's why the potatoes turn out so good every time. Play around with it, but you want soft centers and crispy, flavorful exteriors.
---
Kiwi & Avocado Salsa
I'm not sure if you call this a salsa if you just eat it with a fork! I think it's been upgraded to salad status. You be the judge of it. Try it out and decide: Salsa or Salad. And once you do, let me know in the comment section which you think it is? I got this recipe from Hello Fresh. Back in the fall of 2017, we ordered a number of Hello Fresh boxes and this recipe was in one of them (paired with tacos, yum). Well the salsa was so good, I practically ate it all before we were even done cooking!
Here's how you make it: Dice one avocado, two golden kiwis and half a medium onion. Dice the onion finely. Finely chop about 5 sprigs of cilantro. Squeeze the juice of one lemon. Mix everything together and season with salt. Let it marinate for at least 15 minutes to bring out the flavors. It tastes just as good the following day. Just refrigerate leftovers. Optionally you can add a bit of finely sliced serrano pepper and some black pepper.
---
How To Make Samosas | For Beginners
So the thing is that I only make these during Ramadan, but really, you can make them any time of year. This year, I didn't make them once for Ramadan. And now that Ramadan is over, I'm making up for lost time and turning out samosas like it's nobody's business. This recipe utilizes leftover ground beef or freshly made with a sprinkling of Indian spices and good old fashioned Mission Tortillas. I've tried three different varieties of tortillas and the Mission brand is hands down the best. They are light, airy and soft and fry up really nice and crispy. These have been a family favorite and crowd pleaser for many years now.
I have my mother in law to thank for this recipe (and many besides). The ingredients and directions are simple, and if you are only making enough for your family, not too time consuming. I've made these in the past for big dinner parties, and that's quite the commitment.
Here's what you need (for this recipe, but you can cut it down easily): 2 pounds ground beef (I used 15% fat, but I've used ground sirloin with only 5% fat) 1-2 teaspoons of the following spices (I recommend starting with 1 teaspoon of each and tasting as you go until you reach the desired flavor). Cayenne, cumin, turmeric, ginger, garlic, salt and paprika You can use a serrano pepper or a jalapeno pepper for added kick and for a rich authentic flavor, you can use fresh ginger and garlic or ginger garlic paste. 1 large onion diced, or two small onions Add hidden veggies in the form of 1 green bell pepper or a zucchini. Dice them small and sauté with the onion. 10 tortillas flour and water oil
Directions: Sauté onion in a large flat pan with oil of your choice. Meanwhile, rinse ground beef and break it up so it's smooth. Use a metal strainer to keep from losing the meat. Drain well. I usually work the meat with a wooden spoon and let is rest in the sink draining while the onions fry. Fry other veggies at this time too. Prepare the spice mix by adding 1 teaspoon of each spice into a small dish. You can add more to taste once the meat starts cooking. Turn the heat up to high and add the meat to the browned onions. Work the meat and add the spices. It takes about 5-10 minutes to cook down. Remove from heat and allow the meat to cool so you can work with it. If there's too much liquid, continue to cook it until the liquid evaporates. Avoid draining the liquid because the flavor will drain with it.
While the meat cools, prepare the tortilla and 'glue'. Cut the tortillas in half and set aside. In a small bowl add 1 cup of flour and slowly add 1 tablespoon at a time of water until you create a thick paste. If the paste is too runny, it won't seal the tortillas.
Add a thin line of paste along the edge of half the tortilla. Add about 1-2 heaping tablespoons of meat (keema) to the tortilla and fold the tortilla over and seal it shut. Let it rest for a bit to make sure the seal keeps.
To a pan add as much oil as needed to fry samosas. Heat to medium heat, but watch it constantly. If it's too hot, it will burn or brown quickly, but the inside will be cool or not warm enough. If the oil is too cool, it' won't fry properly and absorb too much oil. Make sure the samosas are sealed completely before frying. Fry for a minute or so on each side. Remove and let drain on metal rack or paper towel. Serve hot with your choice of garnish. I like them plain, but some of my kids enjoy ketchup.
For more recipes, check out this playlist.
Yogurt Tortilla| Indian Appetizer | Dahin Pulke
Dahinki Pulke or Yogurt Tortilla is a family favorite, especially during Ramadan. We like to break fast with fruit chaat and this layered tortilla dish that's thick with yogurt and fried onions. While this appetizer is a Ramadan family favorite of ours, you could really have it any time of year. It's simple to make and other than frying the onions, it's really fast too. Wow your friends and family at your next dinner party with this crowd pleaser. It's lightly toasted tortillas layered with yogurt, cilantro, jalapeño or serrano peppers, and fried onions. Layer three times and then let it chill or rest for 20 minutes until the tortillas are moistened by the yogurt. You can also prepare this up to one day in advance by storing it in the refrigerator, but I prefer to eat mine fresh. Just know that you don't have to eat it directly after making it. The only thing difficult about this dish is cutting it! Oh and eating it! It's a bit messy, but oh so worth it!
---
How to Make Hash Browns
Homemade hash browns or potato pancakes are great for breakfast, lunch or dinner. The only thing that prevents me from making these everyday is the time it takes to shred or grate the potatoes. Surely you could use a food processor with the correct attachment, but we're rocking the kitchen old school with a hand or box grater. Once you grate your potatoes, the rest is easy.
Recipe and directions:
4-5 medium potatoes-peeled and grated (soak in cold water so they don't turn brown)
3-5 cloves of garlic-mashed
2 eggs
Salt and spices to taste (I like to add some garlic and onion powder from Trader Joe's)
oil for frying the hashed browns (I used grapeseed oil)
Peel and grate potatoes. I put them in water to keep them from browning. Drain well. Add eggs, spices and garlic. Mix well.
Cook immediately. The potatoes will sweat, so cook them quickly before your mixture is soaked in liquid. Indeed by the end, you'll notice a lot of liquid. Be sure to drain it before cooking, but also remember that a lot of the flavor is being lost in all that liquid. You can try salting the potatoes after you cook them to keep them from sweating so much water.
Cook them on medium to high heat with a enough oil to sizzle the edges of the hashed browns. Leave them until they have browned well (depending on temperature, it could be 3-5 minutes). If the temperature is too high, you'll over brown them, but the inside won't be cooked thoroughly or will be very moist. If the temperature is not high enough, you won't get good browning.
Flip them and continue cooking. Once fully cooked and browned, remove them to a wire rack or paper towel.
Eat them hot! Not too hot of course, you don't want to burn yourself, but they won't taste as good if you let them cool.
To reheat, pop in the oven for less then 10 minutes covered at 400 degrees. Then refry them to crisp up the outside.
This recipe was inspired by the November 2013 issue of Better Homes and Gardens. Why do I have a magazine clipping from back then? Well a while ago, I had the brilliant idea of purging my magazine collection (if you want to know how i got a magazine collection, keep reading), but keeping all the articles I liked. So I spent quite some time perusing the magazines cover to cover and tearing out the things that interested me from recipes to home decorating pictures to projects. I three-hole punched them and slipped them into a binder. Then they sat in the school room for some time. On rare occasions, I would flip through it and think, "Oh yeah, I want to try that recipe," or "Oh right, I wanted to do that project." Did I do that project or make that recipe? Nope, not in all that time…until now, that is.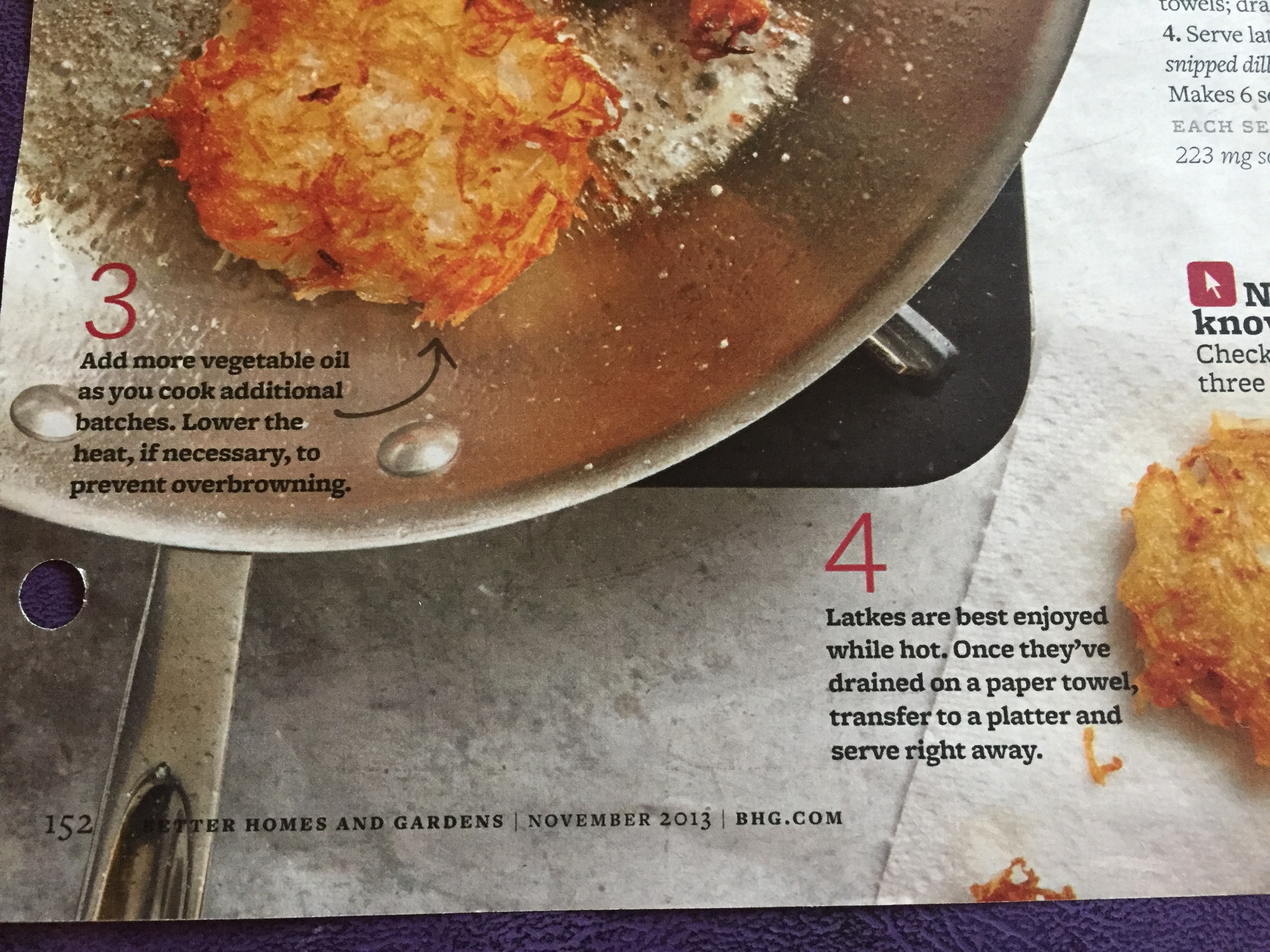 While cleaning out the school room at the close of the year, I opened up this binder and committed to making these potato pancakes.They were soooo good!! Oh my, with some garlic, salt and spices, they were the perfect warming addition to our tomato soup. Now my kids ask for them often. And if they want to grate the potatoes, I'm all for making them!
So why the huge magazine collection with included five different magazine titles? Well back in 2012-2013, we moved temporarily to Texas for nine months. I knew it was a temporary move from the start. We took only what fit in our van and lived the most minimal of a minimalistic life. At the same time, I saw a promotion for five magazine subscriptions for a ridiculously low price. I thought this would be the perfect thing to look forward to receiving in the mail during our nine month stay in which I choose not to have a social life (that's another story), Indeed receiving the magazines throughout the months was both exciting and motivating. But then I had all these magazine to deal with! After taking what I wanted from them, I gave them to a friend who eventually donated them when she was done. So that's my magazine story. I'm about to cancel my only remaining subscription, Martha Stewart Living. It's been a thrill getting them over the years, but it's time to actually put them to go use. I'll keep the ones I have but look over them when the month comes around again.
So back to this post! If you want to see the perfect side dish/soup recipe to accompany these potato pancakes, check out my super simple, pantry-to-the-rescue tomato soup recipe.
Check out more food recipes, including my favorite, pizza puffs, by clicking on the playlist here.
Find me on Twitter, Instagram and Facebook
---