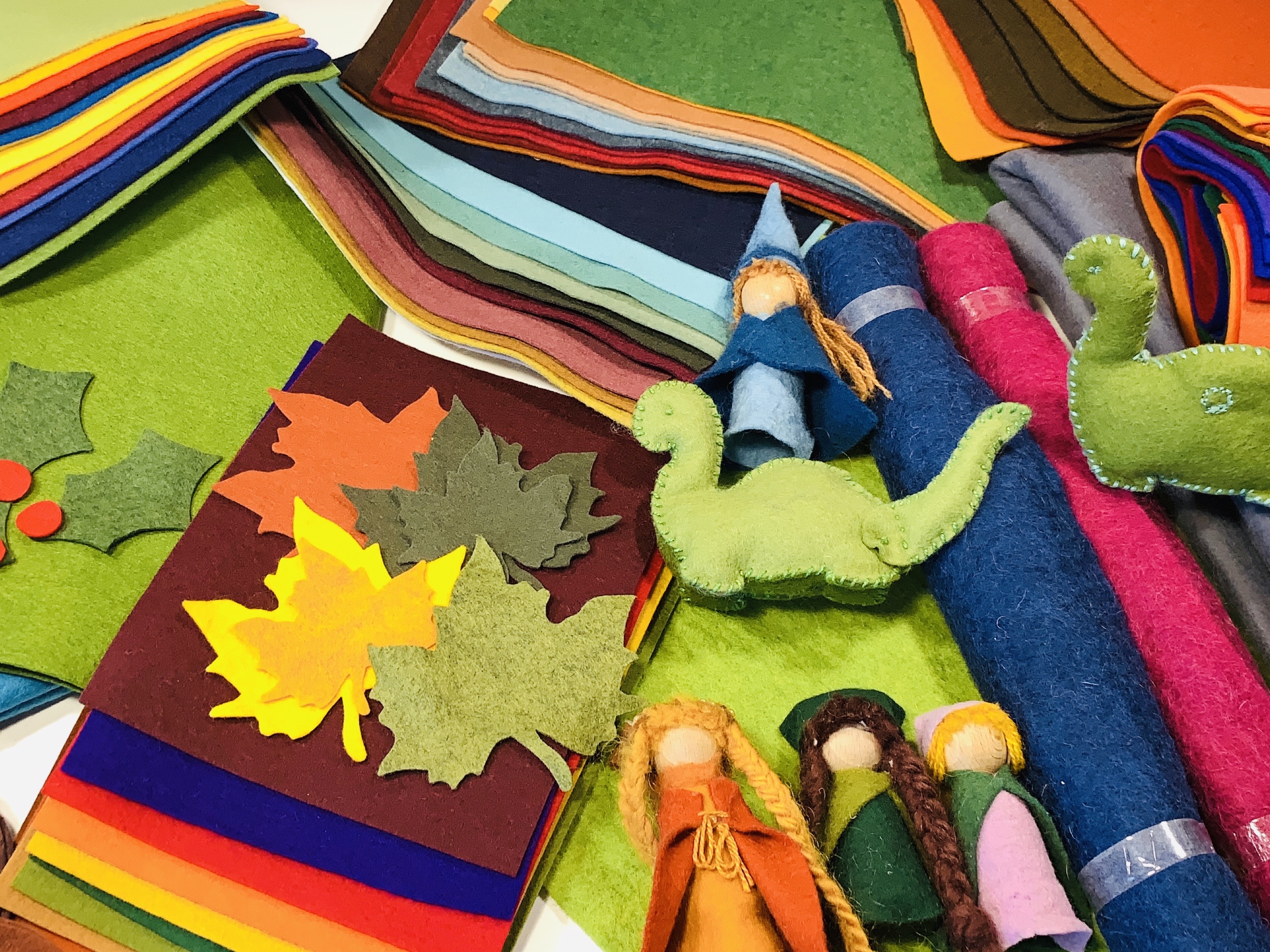 Did you know that the felt you buy at most crafts stores isn't all natural? It's actually acrylic! And being acrylic it means it's far less expensive, but won't last as long (in most cases) as wool felt. Acrylic felt is likely to disintegrate over time which makes it more prone to tearing, in fact, if you try to cut a thin strip of acrylic felt, it will just tear apart. But wool felt might be out of your budget. As gorgeous as it is, and as long as it lasts, it still costs considerable more than acrylic felt. While I'll always aim to buy wool felt over other alternatives, there is one that works well as a middle option: wool blend felt. Wool blend is a mix of 35% or 20% wool with 65% or 80% rayon. The price is less and while I can't speak to the longevity of the blend, so far, it's held up well for the last couple years we've used it. There yet still one more option you can choose from: a vegan option! Have you heard of bamboo felt? I hadn't, but I tried some and it's smooth and soft and to the untrained eye, could easily be mistaken for a wool blend. If you are a felt connoisseur, you'll probably just stick to the 100% wool felt, and I'm with you! You simply cannot beat the quality and beauty of wool felt.
For this video and blog post, I got felt from A Child's Dream, ThreadFollower and Over The River Felt. This is not a sponsored video, but I did receive free felt upon my request from ThreadFollower and Over the River Felt.
---
ThreadFollower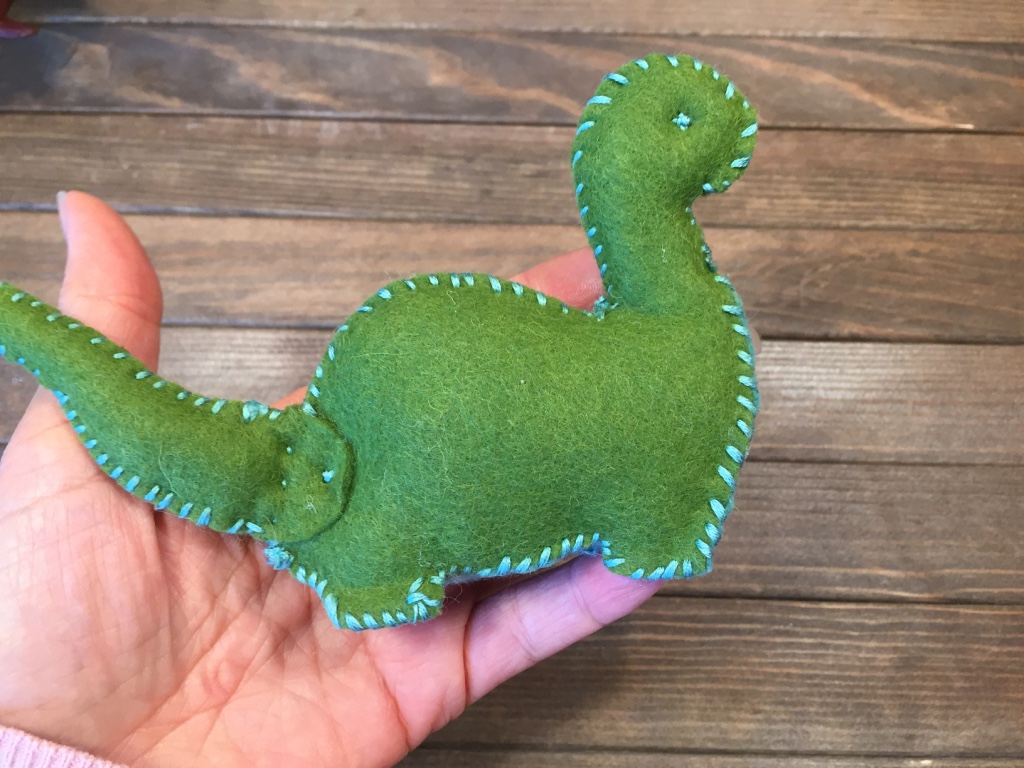 ThreadFollower carries a number of adorable felt animal sewing kits. We own several, and even have a couple video tutorials on them too. The Little Bunny Rabbit sewing kit is great for beginners, but didn't resonate too much with my children. The mini dinosaur kit on the other hand was a huge hit! My then 10-year-old son learned how to sew it with my help, then immediately sewed up another four! The kit came with a pattern, needles, embroidery thread, wool to fill your project and wool blend felt. This was my first time using a wool blend felt and I was very pleased with the results and the feel of the felt. We've had these adorable stuffed animals in our homeschool for nearly four years and they've held up very well, admittedly they don't play with these as much as the finger puppets.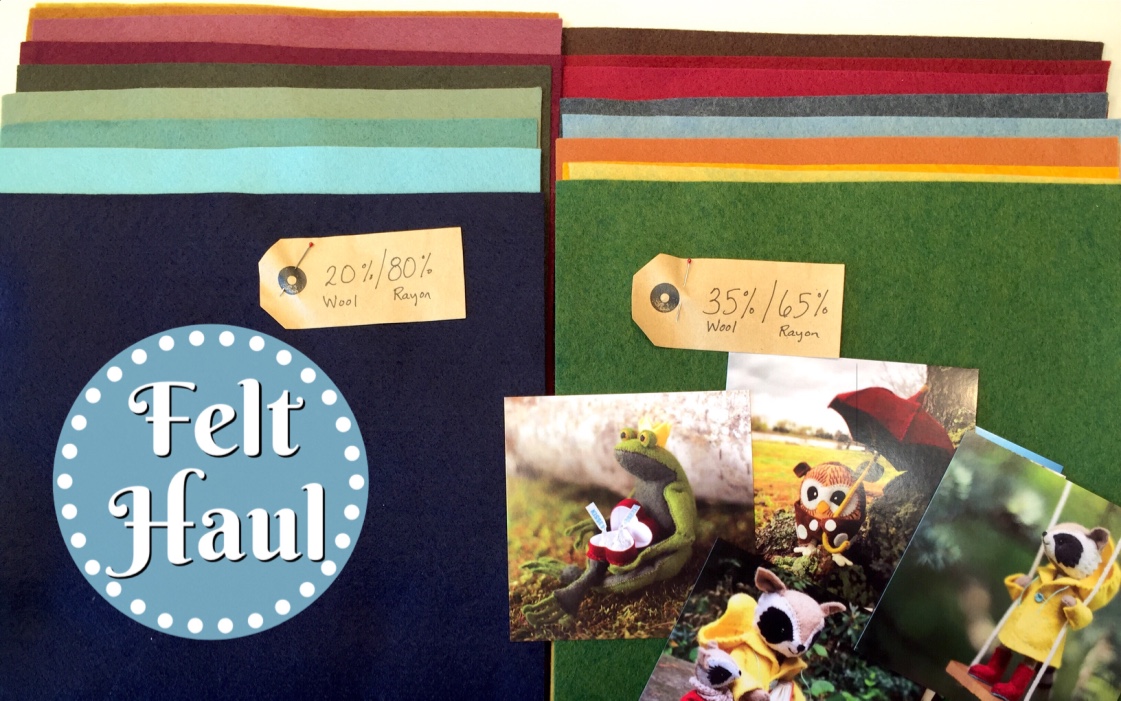 The wool blend carried by ThreadFollower is 20/80 wool/rayon and 35/65 wool/rayon. I was not able to tell the difference between the two. The colors assortment was also really beautiful and I liked the earthy tone and heathered colors they carry. When I first received the felt and additional kits from ThreadFollower, I made a haul video. You can check out the video and get a closer look at just these items which are so beautiful and rich.
---
A Child's Dream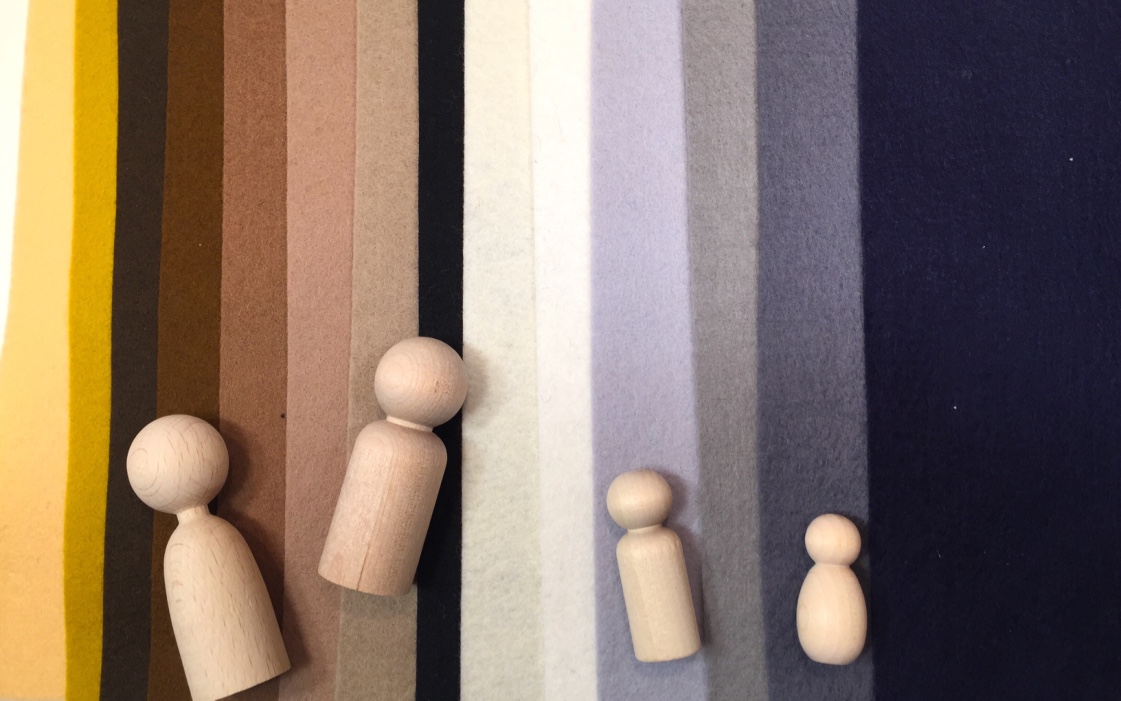 I've been using 100% wool felt from A Child's Dream since about 2007, so I'm definitely partial to their selections which have been the best quality I've used since I started handwork projects such as peg dolls, finger puppets and hand stitching. What I love and appreciate about 100% wool is that the quality and durability are unsurpassed. The feel is smooth but not slippery, the smell is mild and natural, and the colors are rich and even. The best part though, is that it lasts and doesn't pill over time or with wear, and for me that's the best part. For me, the time involved in making a project is the most expensive part of the project. For that, I want to use the best material I have so that the project lasts. I don't want pilling, tearing or fading. While I can't say which felt guards best against fading, I can say that in my experience the best felt I've used is the 100% wool felt.
---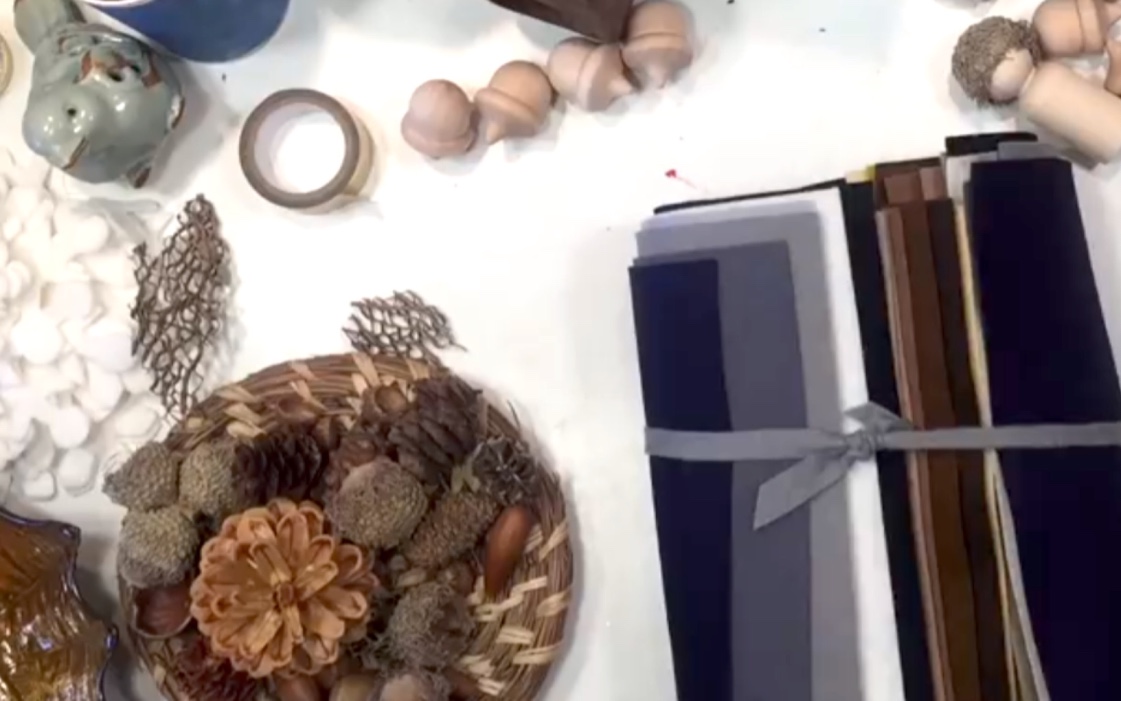 My favorite is the Holland wool felt and a recent favorite is the plant dyed felt which doesn't seem as durable. I love the Holland wool felt collections with the autumn collection being my absolute go-to color selections, followed by the winter collection which is not your typical Christmas colors and the summer and spring collections being lovely options, just not colors I tend to gravitate towards for our projects.
Peg Dolls and Finger Puppets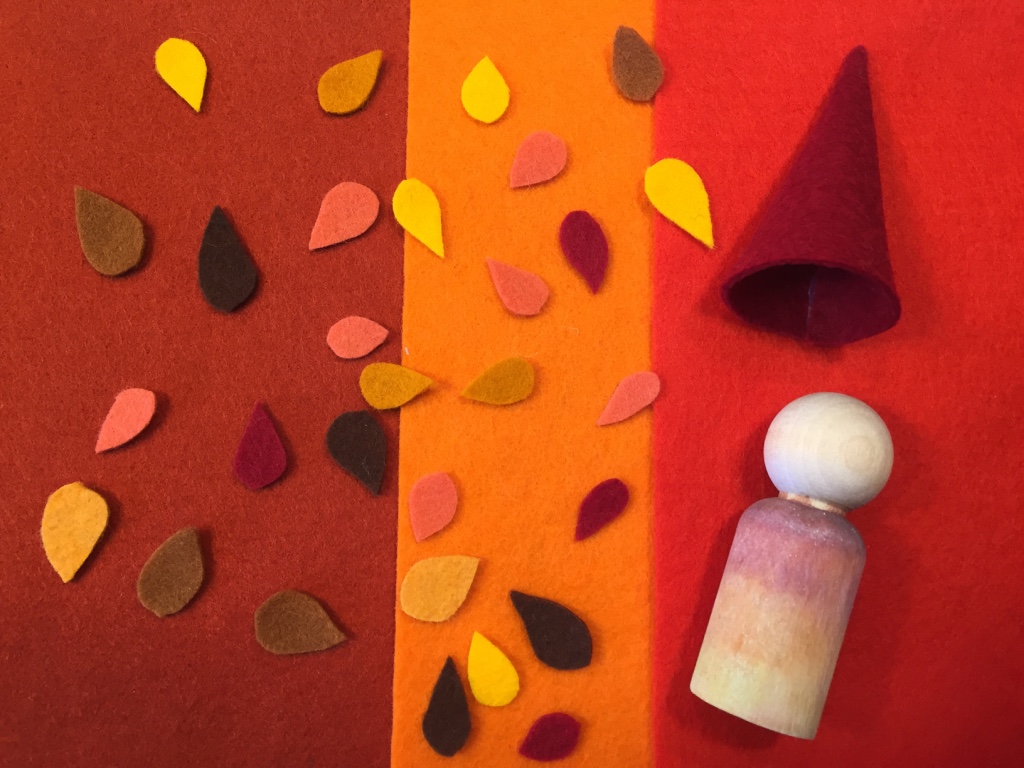 I've been using Holland felt and other wool felt for over a decade to make peg dolls and finger puppets. These toys have been played with in our homeschool for years being passed down from my oldest child to my youngest. In all those years and through the hands of four children, these finger puppets still look good after all these years. Definite wear and tear can be seen in other parts of the finger puppets in the hair (Lamb's Pride Bulky or Worsted weight yarn) and on some of the accessories that have have fallen off. Overall, the felt has held up so well compared to the first finger puppet I ever made using acrylic wool. There was so much pilling, the finger puppet doesn't appeal to my children any longer. And the feel of the felt is slippery and unpleasant. Over the recent years, we've made far more peg dolls to add to our collection and we don't always clothe them in felt, sometimes we paint outfits on them.
More projects with Wool Felt
Welcome autumn with this simple, yet beautiful handwork project that's great for children about eight years and up. All you need is felt and embroidery thread. You also need a needle and a pair of scissors. I've made a pattern (with the help of the original sample made by Melanie Hatch, a master Waldorf handwork teacher) that you can download for free.
---
Over the River Felt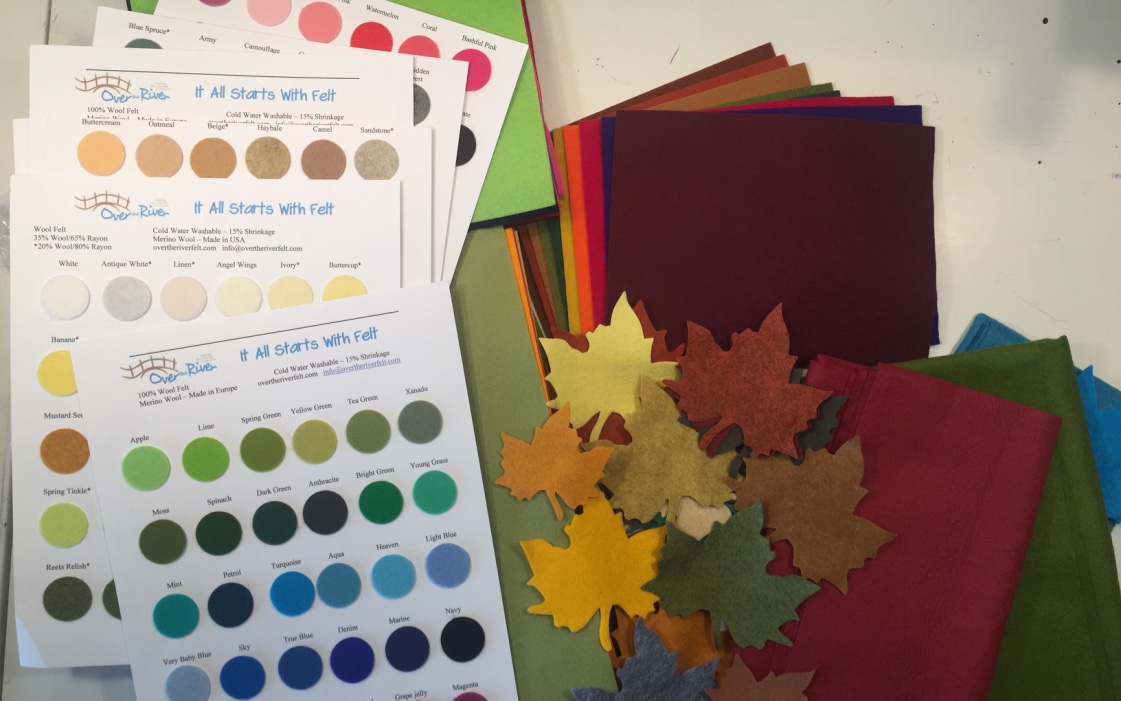 I can't remember how I came upon Over the River Felt, but I'm glad I did (it turns out in was in an Amazon search). They have the widest assortment (from the limited vendors I shop from) of felt varieties ranging from high quality acrylic to wool blend to wool felt and even bamboo felt! I had not even considered that felt could be made from other materials so when I saw bamboo felt for the first time I was pleasantly surprised. I reached out to Over the River Felt and asked them if they would be willing to send me a variety of their products for this review and comparison. Before comparing the felt from the three vendors I contacted, I made a haul video showing the products I got from Over the River Felt and even got started on some projects using their products.
---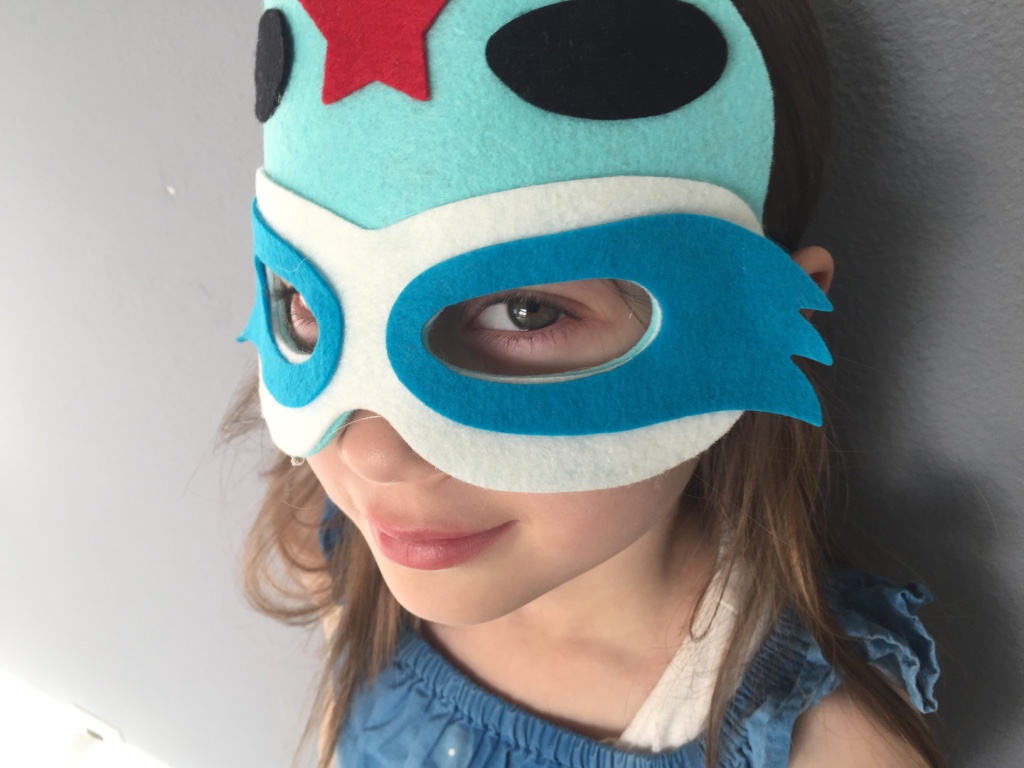 What drew me to the products at Over the River Felt were their die cuts and kits. I love kits! And their Superhero Mask DIY kit was a hit with my children. Admittedly they had more fun making the masks than wearing them as they are not into facial dressup, just the dressup that involves capes and outfits. The other reason they ended up not using the masks as much as I hope is because they are just coarse enough to irritate the skin of sensitive children, either because of a skin sensitivity or because of a personal preference. I also found the masks warming and I found them uncomfortable.
---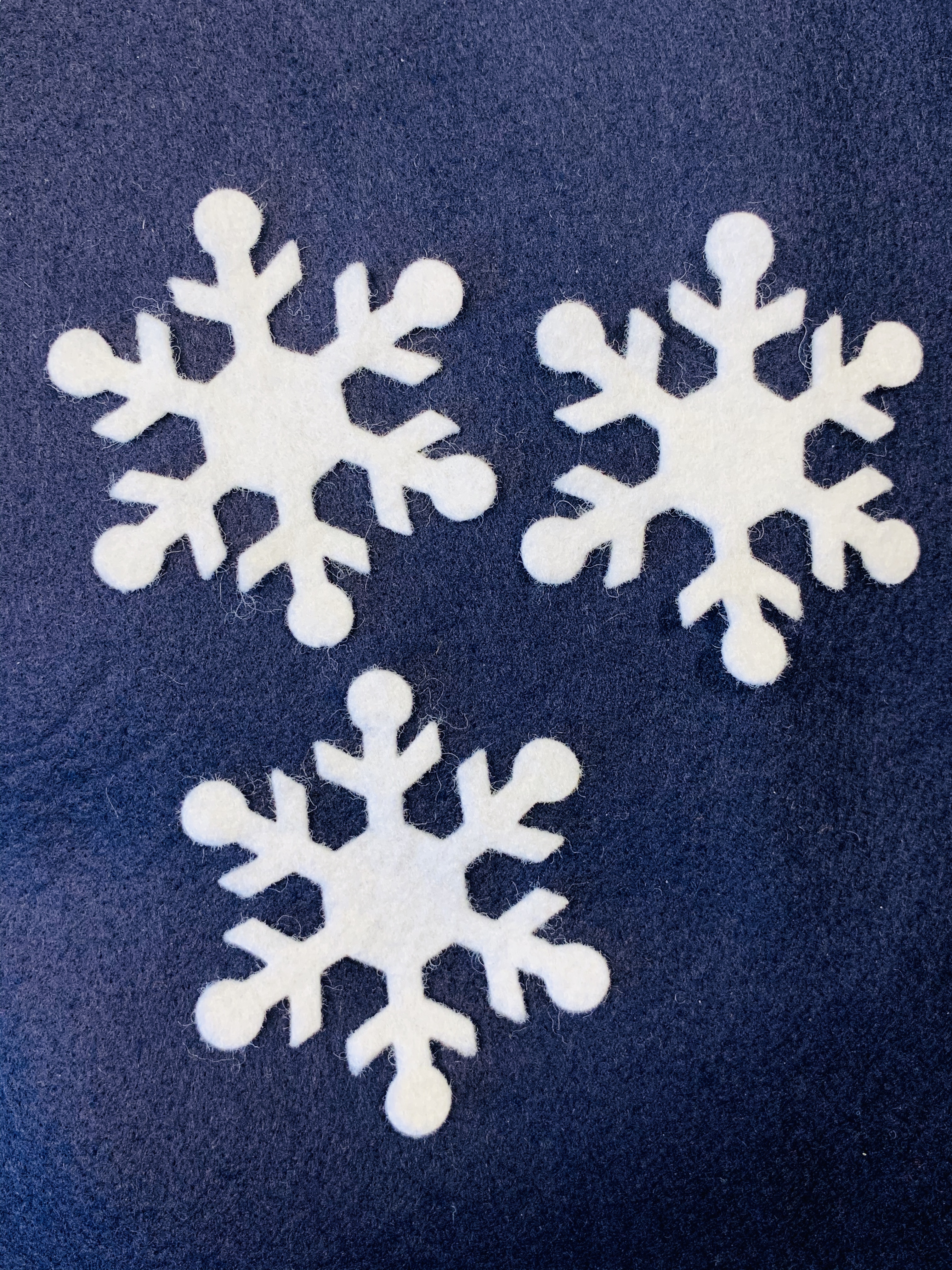 Later we used the snowflake die cuts for a winter inspired stitching project. We did something similar with wool felt from A Child's Dream (see video tutorial), but what was nice for the leaves and snowflake die cuts versus ones you might cut yourself is the intricacies of the design. All the die cuts that Over the River Felt carries are a wool/rayon blend. One of the benefits of using a blend over 100% wool is the cost. Blends are far less expensive than 100% wool blends, and the other advantage is that blends are more durable than acrylic felt which is easily obtained at craft stores.
This is one simple yet beautiful project you can complete in no time, especially if you do the stitching like my 11-year-old son and not like me! We used gold and metallic DMC thread to stitch designs on the wool blend die cut snowflakes using two simple stitches: the running stitch and the back stitch. You can use a single or a double strand of thread, but I found that the single strand looked far better. The gold stands out more on the white snowflakes, but the silver looks magical.
---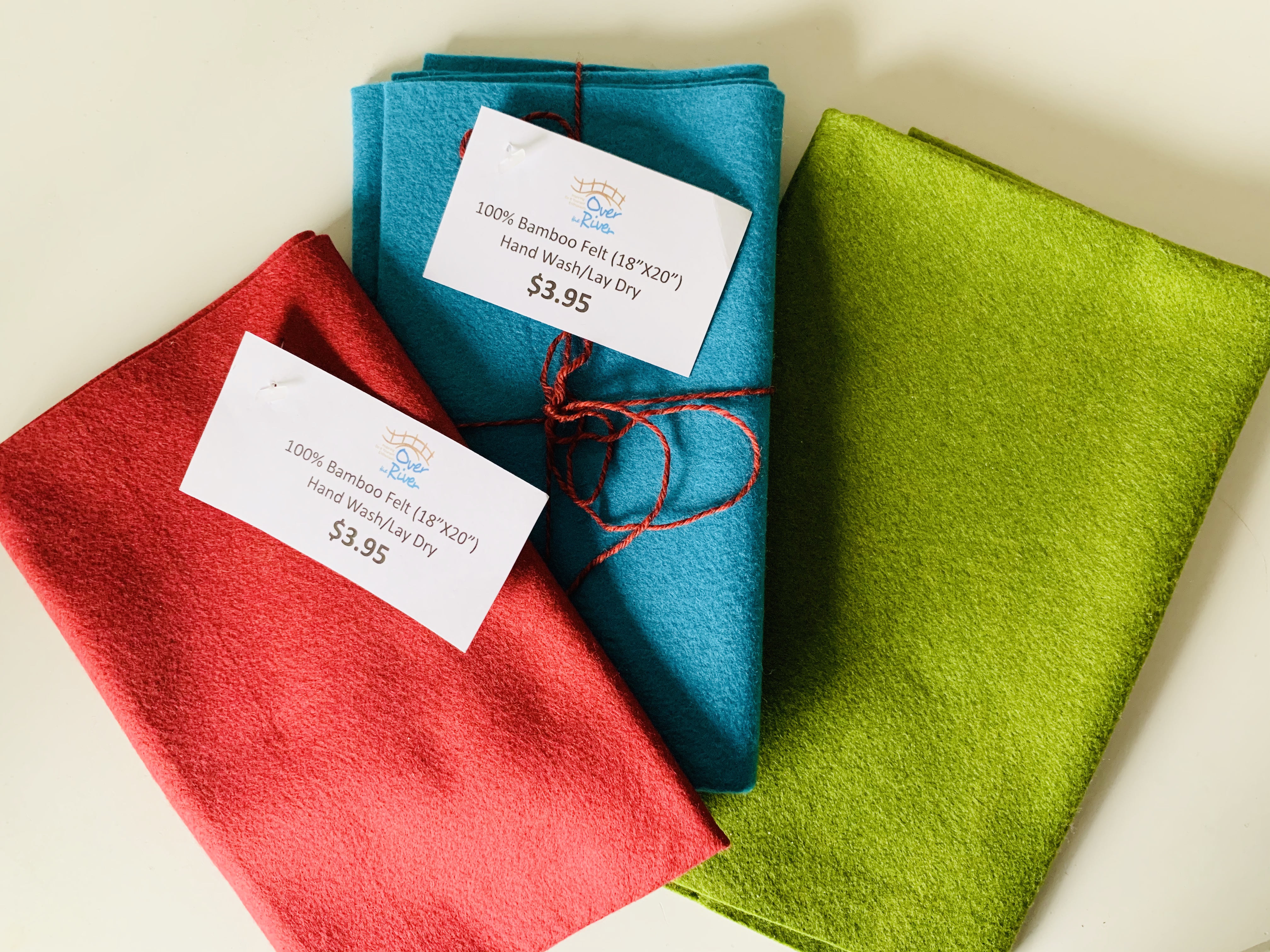 And now for the Bamboo Felt! I was so impressed with the bamboo felt. I thought the cost was comparable to the blends and the quality seemed about the same. The thing is, I didn't craft with it at all. I sent the whole lot to a friend who is vegan and preferred a plant based alternative to wool felt, but wanted a better quality than acrylic felt. I think bamboo felt is a great quality alternative, but truthfully, having not used it with my projects, I'm hesitant to say how durable it it or how long it last, or if it pills, shreds or fades.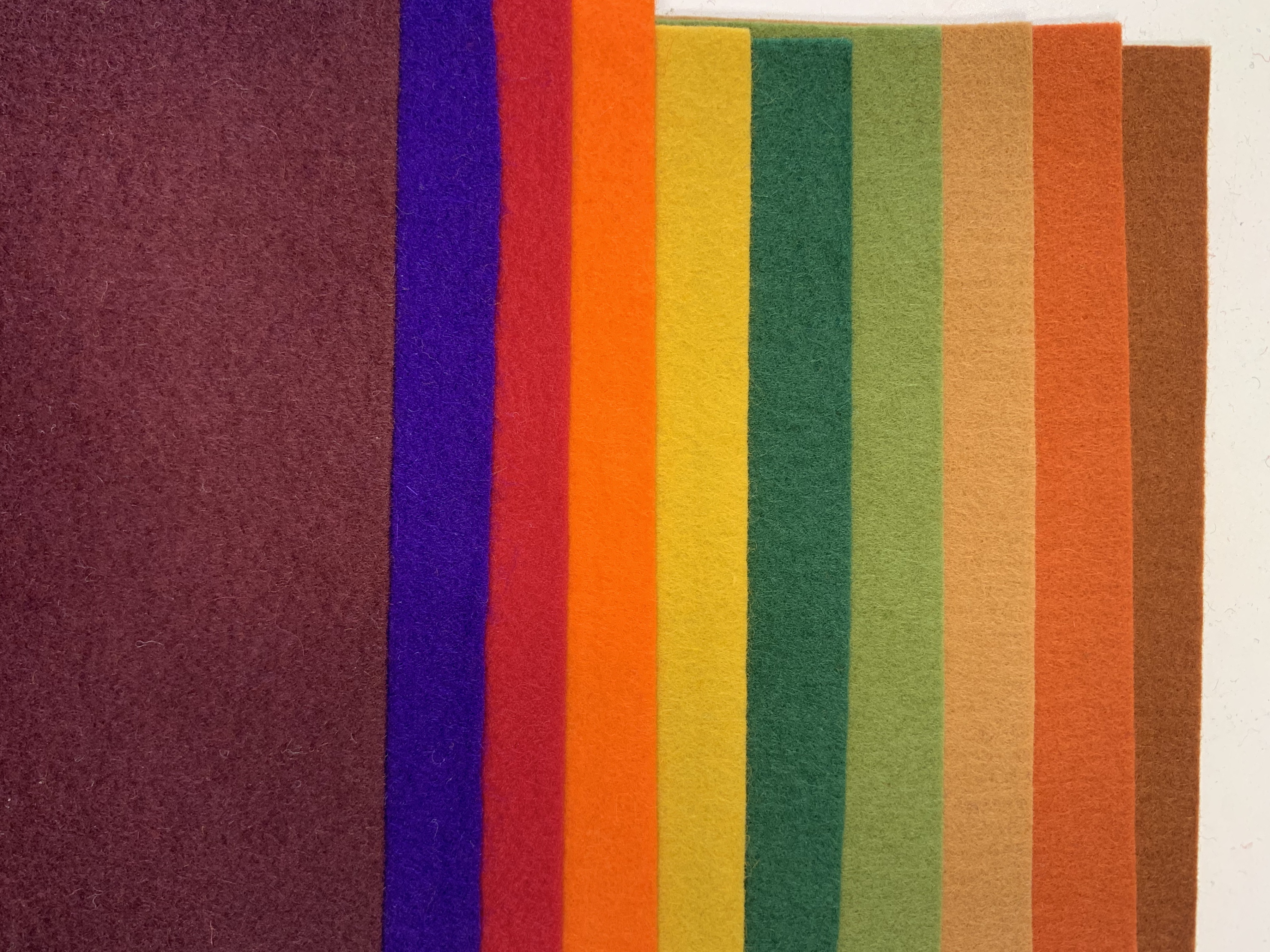 The last products I want to share with you are the wool and wool blend felts. I was impressed by the color and found them to be indistinguishable by touch to the 100% wool felts. However, I'm not a wool felt connoisseur, so if you are a seasoned crafter or handwork teacher, you will definitely want to consider using the 100% wool felts over the wool blends. For those of us looking for a cost effective, yet durable and beautiful alternative to the costly 100% wool felts, I wholeheartedly feel the wool blends are the way to go. As with ThreadFollower, the blends are 20/80 wool/rayon and 35/65 wool/rayon. Once again, my favorite wool felt was the autumn collection from Over the River Felt. I'm drawn to those colors and didn't even ask for other collections!