This Moroccan soup became an instant favorite for my family and friends. I highly recommend you give it a try. It's an easy recipe that's harty, filling, nutritious, and delicious. You can serve it as an appetizer or as the main meal; we've done both. While it does take some time to prep and cook, you can easily make a big pot of this for company, or have plenty for leftovers to eat for a few days.
My friend, Laura, who is married to a Moroccan, shared this recipe on Facebook at the start of Ramadan 2019, and I immediately added all the ingredients to our shopping list for that week and made it straightaway! I'm thrilled I did because it became the "Soup of Ramadan" for this year. The "Soup of Ramadan 2018" was a tomato soup that my friend, Megan, made. Yes, my friends are awesome 😉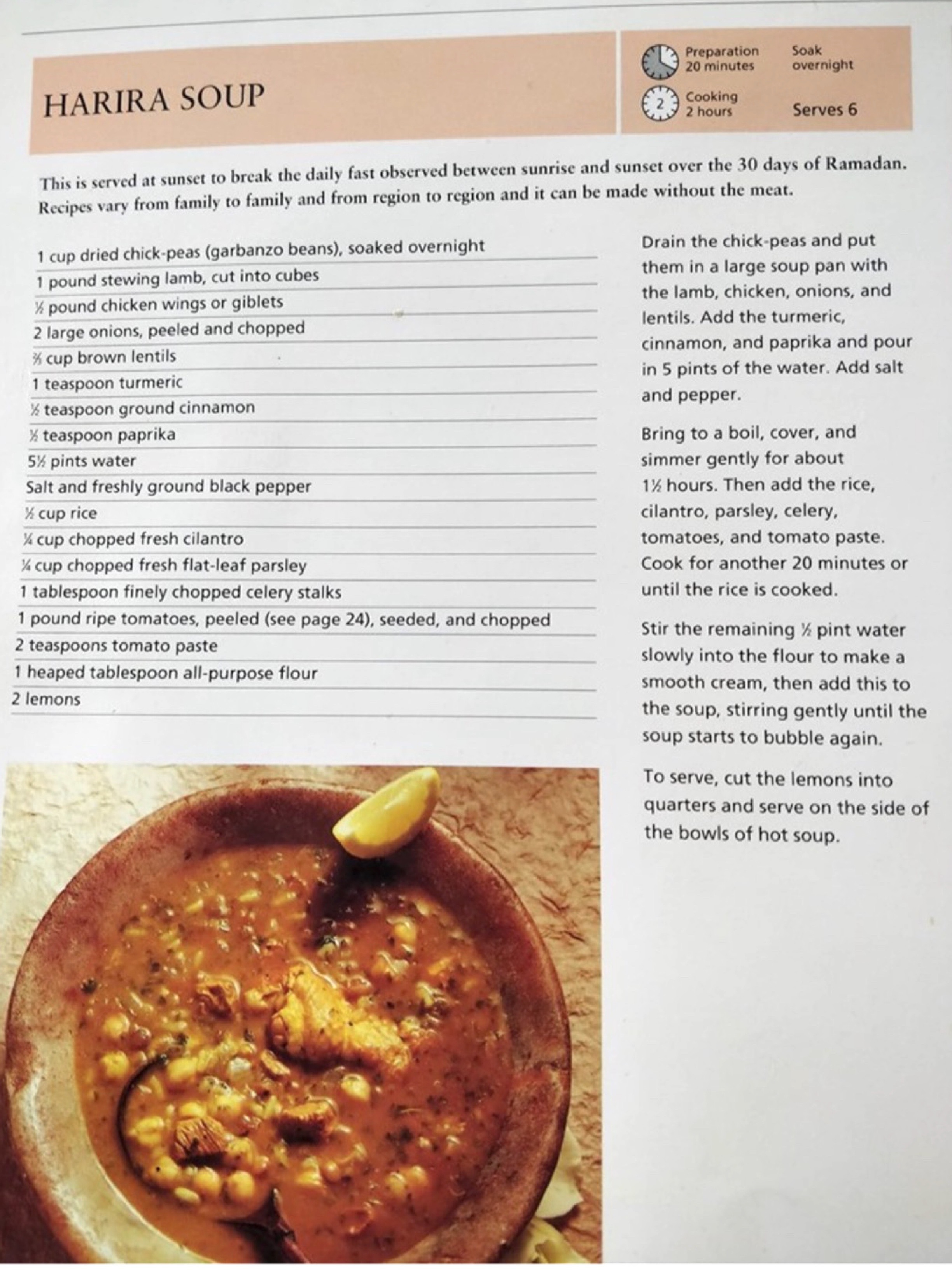 The original recipe can be found in the book Recipes from Morocco by Sufo

Here's my version of the recipe which probably tastes just as good. And the thing is, you can add or remove ingredients depending on what you have and I think you'll still end up with a rich tasting recipe.
Ingredients (serves 10 for a main meal 20 as an appetizer):
1-2 pounds of lamb stew or 5 pounds lamb shoulder
4-6 chicken wings
2-4 diced onions
2-4 diced tomatoes
1-2 cups of green lentils
3-4 cups of garbanzo beans (1-2 cups if they are dry)
handful of flat leaf parsley
handful of cilantro
optional: serrano pepper
up to 1 can of tomato paste (6oz)
4 cloves of crushed garlic
10-14 cups of water
salt and pepper to taste
2 teaspoons paprika
2 teaspoons turmeric
1 teaspoon cinnamon
1 teaspoon cayenne (optional)
1 teaspoon onion powder (optional)
1 teaspoon garlic powder (optional)
1 teaspoon cumin (optional)
2 cups egg noodle (very fine or tiny pieces)
Heat 4 cups of water in a small pan. Brown lamb in olive oil with chicken wings and 2 onions in a large soup pot. Once browned, add spices, tomato paste (or can be added at the end), 2 tomatoes and spices. Add more water if the meat isn't covered. Bring to a boil then reduce to a simmer and cook for 1-2 hours until the meat is soft but not quite done. Once the meat is soft, but not falling apart, remove chicken wings (they cook faster). Add 2 tomatoes, 2 onions, cilantro and flat leaf parsley, and lentils. Cook for 10 minutes. Add egg noodles and cook a remaining 10 minutes. Add serrano pepper at any part of the cooking process depending on how spicy you like it. Meanwhile, remove the chicken from the wings and return to the pot. Serve hot! It's soooo good!!
Instant Pot variation: Brown lamb shoulder in the Instant Pot (or on the stove in a larger pot, my meat couldn't brown well in the Instant Pot) with chicken wings and 2 onions. Add 4 cups of water, spices, tomato paste, 2 onions, 2 tomatoes and soaked garbanzo beans. Cook for 30 minutes on high pressure. Remove meat and chicken when done and remove all the meat from the chicken and lamb. Keep the liquid in the pot and add lentils, egg noodles, 2 more onions, 2 more tomatoes, cilantro and flat leaf parsley. Cook again for 5 minutes. Add meat back into the instant pot and serve hot. Optional: add lemon before serving.