[huge_it_share]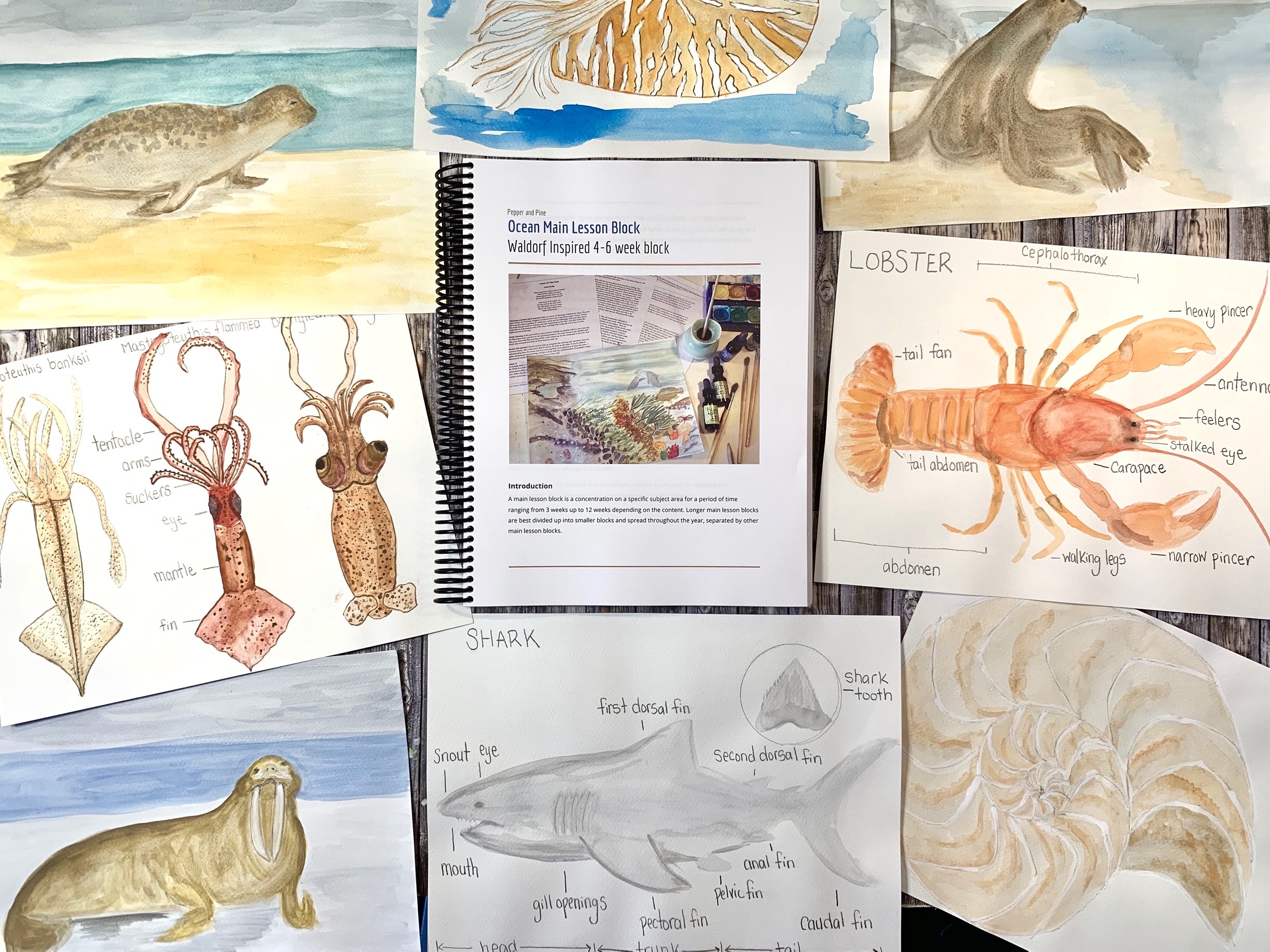 Ocean Main Lesson Block is an 8-week, 20 lesson (154 pgs.), Waldorf inspired curriculum complete with daily lessons, opening activities, suggested narrations, artwork, samples of student work, and hands-on projects and activities, with links to dozens of resources and original content videos to make recreating these lessons as easy as possible.
Topics include
geology
marine biology
zoology
history
oceanography
folktales
Each of the 20 lessons takes 2-4 days to complete making this unit ideal for either complimenting another curriculum or as a stand alone unit study/main lesson block.
Each lesson is filled with
Photos of chalk drawings
watercolor paintings
student work accompany
Links to original videos are added throughout curriculum making following along with tutorials an added bonus.
Each lesson includes either:
Handwork
science demonstrations
activities
Read aloud books and resources are listed with each lesson including links to the products which makes it easy for you to find and evaluate each resource before buying it, if you choose. You can omit all additional resources and complete this curriculum in its entirety with just a blank drawing book and colored pencils.
An introduction to Waldorf main lesson block and the three-day lesson rhythm is included in the curriculum making it easy to use and ideal for new homeschoolers or new-to-Waldorf homeschoolers. Lessons are designed to be read aloud (Charlotte Mason style), or the content can be pre-read by the teacher and presented as a narrative or as a story (Waldorf style).
Also included are
Opening activity ideas
Mental math examples
Daily poetry
Read aloud book selections
Each lesson is clear and user-friendly.
Main Lesson Block suitable for 3rd-8th grade and ideal for grade 4-6.
Please read through the lessons before starting the main lesson block so you can assemble the materials you need.  While most books can be found at the library, and most supplies for projects can be found in your home, there are a number of materials that you may wish to have on hand before starting the block.
Be sure to check out the blog post that accompanies this curriculum as it is filled with additional information and videos.
This video series shows the projects, some lessons and books used for this curriculum.
**All sales final for this product, so please be sure to view the samples before buying.**