I love salads. I could (and have) eat them every day. Top it with some protein and it's a complete meal. I especially love ones that have a vinegar salad dressing base. My favorite is Greek Salad, but it's the one salad I rarely make from scratch! At least not yet as of the writing of this post. Lately, I've been making salads with whatever I have in the fridge and pantry. I like to roast or saute vegetables and add them to the salad. Occasionally I'll add nuts and cheese to a salad for a crunch and flavor boost. Our salads are varied and from all corners of the world. The one thing you'll find the same about all salads is that they are made from either a base of fruits or vegetables and they all have a dressing. Enjoy! And don't forget to pair these salads with soups, appetizers, and a main dish, and finish it with dessert and drinks.
Fruit Salad with Citrus Dressing
What's great about a berry salad is that you can skip cutting, slicing and dicing! I juiced four limes and one lemon for the dressing, then added 2 kiwis, 1 pound of strawberries cut into quarters, 6 ounces of raspberries, 18 ounces of blackberries, 18 ounces of blueberries, and 2 grapefruits. I added a handful of chopped mint then tossed everything and served it immediately. You don't want to let this fruit salad sit. I had leftovers, so I served it the following day and it didn't look so pretty. Also, my limes ended up being super bitter, so the following day I sprinkled it all with brown sugar to bring out the flavors of the fruit. I first learned this recipe about 10 years ago. It was just the berries and some lemon and lime juice. I added the mint, kiwis and grapefruits because I had them, but just about any seasonal fruit would taste amazing. Recently I had fruit salad at a friend's house and she cut her berries in half, added mangoes in tiny chunks and added dates! Her dressing was just heavy whipping cream and it was amazing! While I love the lightness of a citrus dressing, that creaming dressing over the fruit took her salad from appetizer to dessert.
---
Smashed Cucumber Salad
I've been on the hunt for a cucumber salad recipe that tastes just like the one I love from a local Shabu Shabu restaurant. While this recipe, from RecipeTinEats, is so tasty, it's not quite the same. My 10-year-old daughter, however, loved it soooo much and asks me to make it everyday. This recipe is super easy and quick, but it will take time to chill to allow all those flavors to mix and develop. For that reason, you may want to make this in the morning or the night before, or how we made it where we only let it chill for about an hour or less.
I smashed three Persian cucumbers with a volcanic rock pestle from my mortar and pestle. I roughly sliced them and tossed them in a bowl with toasted sesame seeds heated in olive oil (about 1/4 teaspoon) with raw sesame seeds (1/4 teaspoon), salt, 1-2 tablespoons rice wine vinegar, 5 cloves of smashed garlic and optionally a splash of soy sauce. I altered the recipe and swapped ginger for garlic and omitted the soy sauce this time. I think ponzu sauce might be a nice alternative too. Enjoy!
---
Orange and Date Salad
What a great way to end (or start) a meal than with sweet seasonal oranges garnished with dates and blanched almonds with a drizzle of lemon. The key to the success of this recipe is sweet seasonal oranges! We live in Southern California and our oranges are delicious! So imagine my surprise when we got a tasteless bitter bunch of oranges when buying the ingredients for this mini Moroccan feast for our homeschool main lesson block on Ibn Battuta and North Africa. No amount of garnish or sugar or lemon could enhance this recipe enough. So my tip is make sure you are using the best oranges you can get for the best success for this recipe. Enjoy!
---
Find me on YouTube, Twitter, Instagram and Facebook
---
Moroccan Tomato and Red Onion salad
I love a good salad, and while I prefer more in my salad than just tomatoes and red onions, this Moroccan salad makes the ideal side dish to a main entree. I paired it with BBQ chicken and spicy green beans. This side dish was part of a mini Moroccan feast we made for our lessons on Ibn Battuta and North Africa. While putting this unit together, we focused much of the cuisine on Moroccan food, but Ibn Battuta was a world traveler, and didn't return to his home county for decades. This recipe is simple and I recommend using the tastiest tomatoes you can find and slicing them from the bottom up rather than from side to side.
---
Kale, Avocado and Grapefruit Salad
One of the things we like the best about our history units, is the new recipes we get to explore and discover as we learn about a culture or region. For our West Africa unit, I bought two cookbooks. One called Ghana Cookbook and this one called Modern Senegalese Recipes from the Source to the Bowl by Pierre Thiam. While I didn't look extensively, I was actually looking to get a cookbook on Malian food and preferably a historic cookbook before the influence of colonialism. While I didn't find what I was looking for, I did find this gem. Senegal by Pierre Thiam is full of artsy photographs of people, places, cultural festivities and food. You learn a lot about the region through the narrative of food and culture, even the changes in food as a result of colonialism. I admit I was surprised at this recipe. Being a California resident, foods like grapefruit, avocados and kale grow abundantly here. In fact, the county I grew up in was known and filled with citrus groves, with other orchards like avocado, almonds and walnuts mixed in in the surrounding areas. So when a Senegalese recipe called for easily accessible ingredients and furthermore looked like it would appear in a posh little beach cafe, I had to try it. I didn't have high hopes for this combination. I couldn't see how grapefruit, avocado, garlic and mustard could possible be paired together let alone taste good. Goodness was I wrong. Not only was it good, it was amazingly delicious. The sweet tart grapefruit balanced the greens and mustard, the cashews added crunch and texture and the avocado added a smooth creamy deliciousness that took this salad from appetizer to meal. If you wanted to make it a complete meal, you could add some grilled, but cooled, chicken breast seasoned with salt and smothered in a cashew sauce. Add some fresh baked bread on the side and you will feel so satisfied, you won't feel like dessert! Truly! I encourage you to try this recipe.
---
How To Make Antipasto Salad
Short of just opening up a pre-washed bag of salad, this is the fasted salad you'll make! It's my version of an Italian antipasto salad. It's rich in flavors and textures and also filling! You can serve it as an appetizer or pre-dinner salad, or in some cases, you might opt to have this as your meal. Pair it with bruschetta for a filling lunch or light dinner.
Recipe:
Ingredients:
8 oz grape or cherry tomatoes (cut in half)
8 oz small mozzarella balls
8 oz marinated artichoke hearts
2 small Persian cucumbers (sliced)
several black olives or Kalamata olives
several leaves of fresh basil
several pepperoncinis
a drizzle of balsamic and red wine vinegar
Combine all ingredients together and toss well. Add salt if needed. Chill before serving if desired. This salad tastes good served right away or even better if you let the flavors mix together for 30-60 minutes.
Check out my other cooking tutorials!
---
Indian Fruit Salad | Fruit Chaat
If you've never tried fruit salad with spices, I encourage you to try this. You fruit will get a kick out of it, and so will you! You'll impress your taste buds with cayenne, salt and pepper mixed with sugar and the sweetness of seasonal fruit and fresh juice. Here's the recipe:
Ingredients:
1 lemon-squeezed
1 apple-diced
2 oranges-diced
2 cups grapes-sliced in half
1 banana-sliced and reserved for just before serving
Season fruit like strawberries, kiwi or anything you'd like, I find melons don't work as well with this recipe, but you may like the spicy/sweet combo!
2-3 tablespoons of juice
Cayenne pepper, black pepper, salt and sugar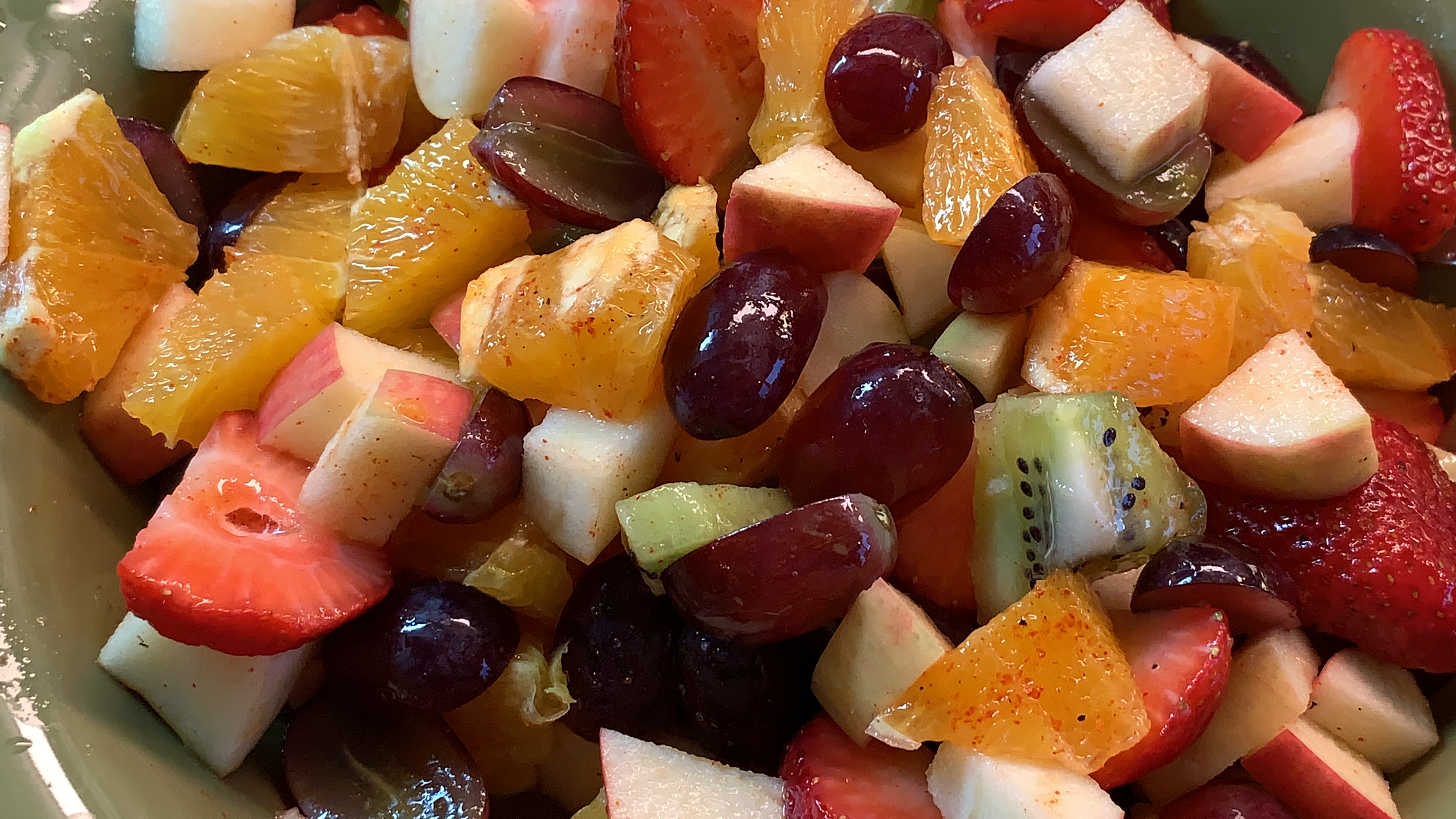 Squeeze lemon into serving dish and remove seeds. Add apples and coat with lemon juice to prevent browning. Add oranges and grapes and other sturdy seasonal fruit if you wish. Add spices. Start with a sprinkle, you can always add more. But if you've added too much, don't worry, you can wash your fruit or add more juice to dilute the spice. Add juice and toss salad. You can store in the fridge for a few hours, but longer than that and the fruit won't look as good. You definitely can still eat it and even save it for a day and still enjoy it, but I find the flavors mix too much by then. Just before serving (and after you've mixed the spices in), add your sliced bananas. If your banana is overripe, avoid tossing it, if it's still firm, you can lightly mix. Serve and enjoy! If you plan on pre-making this fruit salad, wait to add the banana until you are ready to serve or eat it.
The first time I tried this salad, I was hooked! That was back in 2003. My sister-in-law made this salad, and I couldn't get enough of it. I ate everyday for days. While I do like fruit, I don't seem to eat a lot of it, so spicy, flavorful fruit salad like this certainly helps me get my five servings of fruits and veggies. What's more, is that it's hydrating. I've found that fruit chaat is especially good during Ramadan or anytime of year in which you are fasting. Either to start or break your fast, this Indian inspired fruit salad will keep you hydrated longer than just drinking water, at least, that's what I've experienced. There are so many varieties of this beloved Ramadan iftar recipe. I hope you find a combination you love as much as I love this one.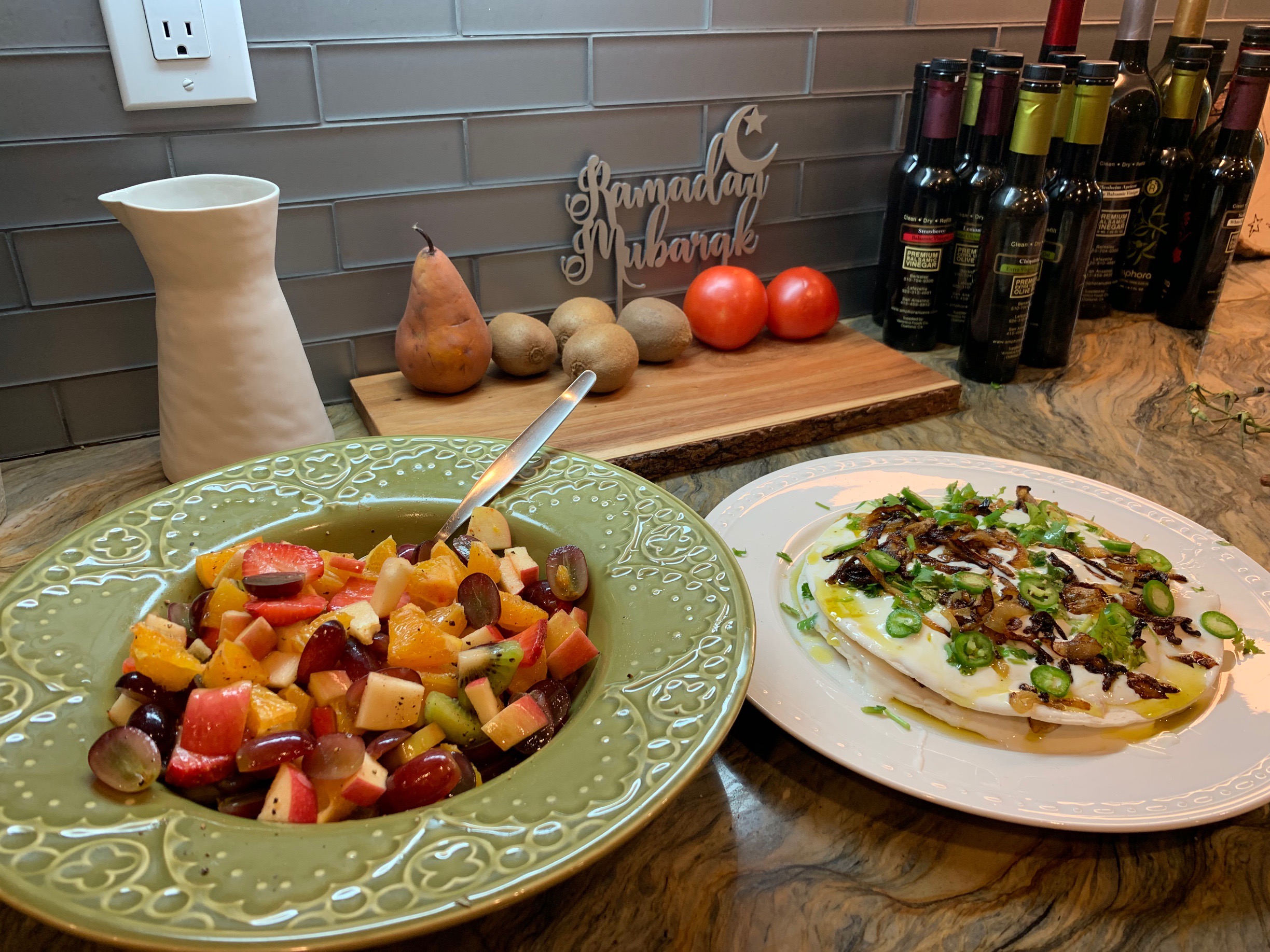 Curious about the yogurt tortilla dish at the end of this video? That's another Ramadan family favorite for iftar and while you can enjoy it any time of year, we tend to make it just for Ramadan.
Want to see more recipes? I keep adding recipes to a YouTube Playlist. You can find my most requested recipes as well as ones we hardly make anymore!
---
How to Make Indian Garbanzo Bean Salad | Cholay | Chana Chaat
There are some dishes I tend to make just during Ramadan. This is one of them. It's an Indian inspired recipe was shared with my by my sister-in-law who knows how to make good food, fast! I even have a secret shortcut to this recipe that you can find on the blog post that accompanies this video tutorial.
Cholay is a garbanzo bean side dish that can be served hot or cold and has several varieties. Today's is a cold version that can be stored in the fridge for hours or even a day or two and the flavors just get better over time. This version may be better known at Chana Chaat. Either way, it's a delicious protein rich side dish or a meal in itself.
Recipe:
2 cans of garbanzo beans
1 finely diced onion
4 cloves of mashed garlic
3-4 diced tomatoes
handful of chopped cilantro
1 finely diced jalapeno
2 lemons (squeezed)
season with salt, cayenne, cumin and paprika
Mix all ingredients together and drizzle with olive oil. Let sit for 15 minutes or refrigerate for up to one day before serving.
My sister-in-law is not only a great cook, she's a smart cook. As a full time working mom of four, she knows just the shortcuts she needs to take in order to have nutritious fresh food without spending hours in the kitchen. Here's her time-saving tip: Buy fresh salsa and mix it with a can of garbanzo beans, and voila! You have cholay!
To see more cooking tutorials, click here!

Find me on YouTube, Twitter, Instagram and Facebook
---
Avocado, Mango, Tomato, Cucumber, Red Onion, and Date Salad
This salad doesn't have a name. At least, I don't know that it does. So I couldn't title this video with the salad's name. So I listed most of the ingredients. When my friend told me she was going to make this salad while staying with me for a week. I agreed, but didn't think the combination was appetizing. Boy was I in for a surprise. Not just a surprise, but for a salad experience I'd never had before. This salad is so good. It's just so unexpectedly good. I do hope you'll try it and I recommend making just two changes to the recipe which you'll find below.
And now for this spectacular salad recipe: 1 avocado 2 mangoes (the video only shows one) About 1/4 to 1/3 cup of sliced red onions (I used about a 1/4 of a large red onion) 5-10 cherry or grape tomatoes (sliced in half) 1 Persian cucumber or 1/4 of a medium cucumber Optional: 1 golden kiwi 1/3 cup of walnuts Dressing: a drizzle of olive oil, 1/2-1 lemon juice, a sprinkle of salt and cayenne.
Directions: Cube avocado, mango and kiwi, slice tomatoes and red onions, diced cucumbers and dates. Toss everything together and let sit for about 15 minutes so the flavors can blend.
---
Salad with Fruit and Balsamic Vinegar
I could eat salad every day of the year. I go through phases where I'll be really into one type of salad or another, but most of my salads start with a similar base and are usually topped with the three salad essentials: red onions, tomatoes and cucumbers. This salad is no different, but what makes it stand apart from the rest are the use of balsamic vinegar (I prefer apple cider vinegar), dried cranberries (when fresh summer fruit isn't available), sliced almonds and a plethora of summer berries.
Salad recipe: 1 bag of Trader Joe's baby lettuce or baby herb salad (alternatively, you could use arugula or baby kale) Half a thinly sliced red onion A handful of cherry or grape tomatoes (or one medium to large vine ripe tomato) 1-2 small Persian cucumbers A handful of fresh seasonal berries like blueberries, raspberries, blackberries and strawberries (if those aren't available, you can use dried cranberries) Sprinkle the top with sliced almonds (pumpkin seeds are a great fall addition) Candied walnuts or pecans Add salt, and drizzle with balsamic vinegar and olive oil Keep it vegan and stop here, or sprinkle with feta cheese Toss and serve within 10 minutes.