Soups are underrated. They tend to take as long as a main meal but get relegated to the side as an opener. Sometimes soups are so hearty they are the main meal! Here are a collection of our family's favorite soups from around the world.
How To Make Moroccan Fish Soup
We almost always cut our recipes in half when we are trying something new. That way we can explore new cuisine without worrying if we are going to waste anything if we don't like it. For this recipe, that was a mistake!! As soon as I was done making it, and we started sampling it, it was nearly gone before I had completed the rest of the meal. I hustled to defrost more Alaska cod, and my 14-year-old son helped chop the ingredients we needed for this simple, yet wholesome, warming and delicious soup. Well, here's what happened. I had run out of brown onions, so we substituted with a red onion. That was a mistake! While red onions may taste similar, their color is not. And for many recipes the color may not matter, but for this one it did! The whole soup turned a brown which stained the white cod and left the broth kind of murky. While it tasted the same, it wasn't appetizing. I also substituted homemade chicken bone broth for water and that added a depth of flavor as well. One ingredient I don't typically use is nutmeg and this recipe calls for about 1/4 teaspoon. That added flavor along with our chicken broth and the simplicity of the fish and carrots has turned this recipe into a family favorite. I hope you'll try it too!
---
How To Make Moroccan Harira Soup
This Moroccan soup became an instant favorite for my family and friends. I highly recommend you give it a try. It's an easy recipe that's harty, filling, nutritious, and delicious. You can serve it as an appetizer or as the main meal; we've done both. While it does take some time to prep and cook, you can easily make a big pot of this for company, or have plenty for leftovers to eat for a few days.
My friend, Laura, who is married to a Moroccan, shared this recipe on Facebook at the start of Ramadan 2019, and I immediately added all the ingredients to our shopping list for that week and made it straightaway! I'm thrilled I did because it became the "Soup of Ramadan" for this year. The "Soup of Ramadan 2018" was a tomato soup that my friend, Megan, made. Yes, my friends are awesome 😉
I'm happy to keep this recipe going throughout the year with our Ibn Battuta unit study. While I've made some changes to the recipe, it's also possible that Harira soup is a modern day recipe inspired by some dishes that were common during the 1200s in North Africa.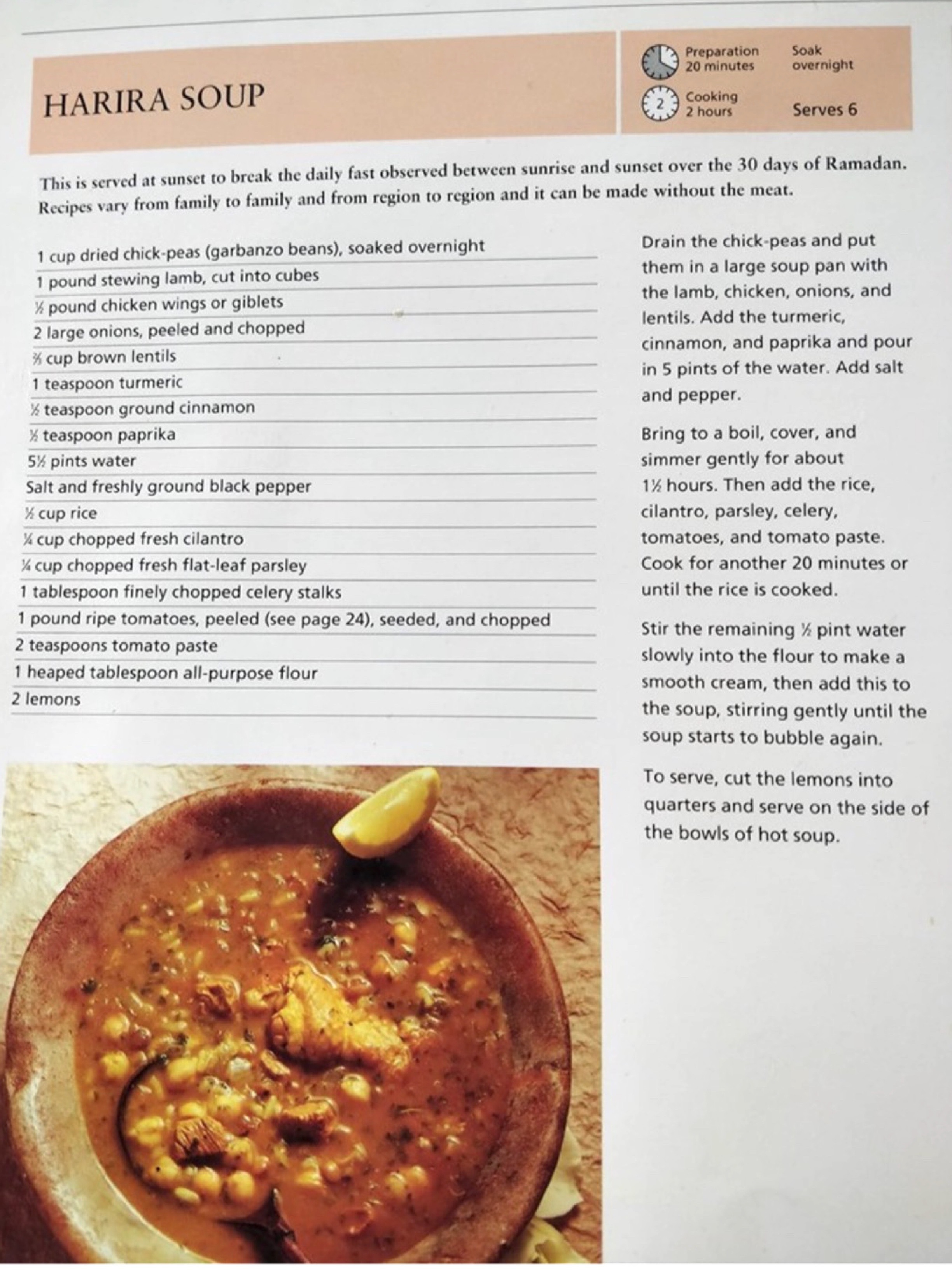 The original recipe can be found in the book Recipes from Morocco by Sufo

Here's my version of the recipe which probably tastes just as good. And the thing is, you can add or remove ingredients depending on what you have and I think you'll still end up with a rich tasting recipe.
Ingredients (serves 10 for a main meal 20 as an appetizer):
1-2 pounds of lamb stew or 5 pounds lamb shoulder
4-6 chicken wings
2-4 diced onions
2-4 diced tomatoes
1-2 cups of green lentils
3-4 cups of garbanzo beans (1-2 cups if they are dry)
handful of flat leaf parsley
handful of cilantro
optional: serrano pepper
up to 1 can of tomato paste (6oz)
4 cloves of crushed garlic
10-14 cups of water
salt and pepper to taste
2 teaspoons paprika
2 teaspoons turmeric
1 teaspoon cinnamon
1 teaspoon cayenne (optional)
1 teaspoon onion powder (optional)
1 teaspoon garlic powder (optional)
1 teaspoon cumin (optional)
2 cups egg noodle (very fine or tiny pieces)
Heat 4 cups of water in a small pan. Brown lamb in olive oil with chicken wings and 2 onions in a large soup pot. Once browned, add spices, tomato paste (or can be added at the end), 2 tomatoes and spices. Add more water if the meat isn't covered. Bring to a boil then reduce to a simmer and cook for 1-2 hours until the meat is soft but not quite done. Once the meat is soft, but not falling apart, remove chicken wings (they cook faster). Add 2 tomatoes, 2 onions, cilantro and flat leaf parsley, and lentils. Cook for 10 minutes. Add egg noodles and cook a remaining 10 minutes. Add serrano pepper at any part of the cooking process depending on how spicy you like it. Meanwhile, remove the chicken from the wings and return to the pot. Serve hot! It's soooo good!!
Instant Pot variation: Brown lamb shoulder in the Instant Pot (or on the stove in a larger pot, my meat couldn't brown well in the Instant Pot) with chicken wings and 2 onions. Add 4 cups of water, spices, tomato paste, 2 onions, 2 tomatoes and soaked garbanzo beans. Cook for 30 minutes on high pressure. Remove meat and chicken when done and remove all the meat from the chicken and lamb. Keep the liquid in the pot and add lentils, egg noodles, 2 more onions, 2 more tomatoes, cilantro and flat leaf parsley. Cook again for 5 minutes. Add meat back into the instant pot and serve hot. Optional: add lemon before serving.
Find me on YouTube, Twitter, Instagram and Facebook
---
Ghana Mushroom Soup
Whenever we do our history main lesson blocks for homeschooling, we always do our best to include some historical or regional recipes to enhance our lessons. While I attempted to look for historical Malian food, we ended up buying two modern cookbooks, one on Ghanaian food called The Ghana Cookbook and one on Senegalese cooking called Senegal by Pierre Thiam. My goal is to try a minimum of two recipes from each cookbook I get for our unit studies and for the Ghana cookbook, we cooked Mushroom Stew about 10 times! We love this recipe so much, and granted I've made some alterations to the recipe and maybe some shortcuts as well, but overall, I feel we've stayed pretty true to the recipe and in the process tried something new. Preferably, I wanted recipes that included ingredients we didn't readily use in our own cooking so we could get a feel for the region. While this recipe doesn't do that, I think bringing in some staples from a region allows you to truly try something new. All places will usually have a meat, grain and vegetable that is heavily relied upon as well as spices that are common. What we learned through our Silk Road unit study is that spices traveled the Silk Road, later known as the Spice Route by sea, so some spices that are quintessential in West Africa may have originated in China or India! Since making this recipe, my West African friends have told me that you can serve this over rice or another grain. We typically ate it like a stew and it was just right for chilly falls and springs.
---
4 Ingredient Tomato Soup
I've been raving about this super simple yet incredibly delicious soup on Instagram recently and now I'm sharing the recipe with you. It's not an original recipe, I got this from my friend Megan, who got it from her friend Lubna who got it from someone else. Today I'll share my version of this delicious, wholesome, filling, warming, soup. It's awesome. It's my new favorite, and I crave it every day. And the best part, you can make it with pantry items! Woohoo! Who doesn't like a meal or soup you can whip together quickly from pantry ingredients.
I've added a few garnishes that are optional, but definitely take this soup over the top. You can also omit the garlic and cayenne pepper. While I like a touch of spiciness, many of my friends prefer it without the cayenne pepper.
Tomato Soup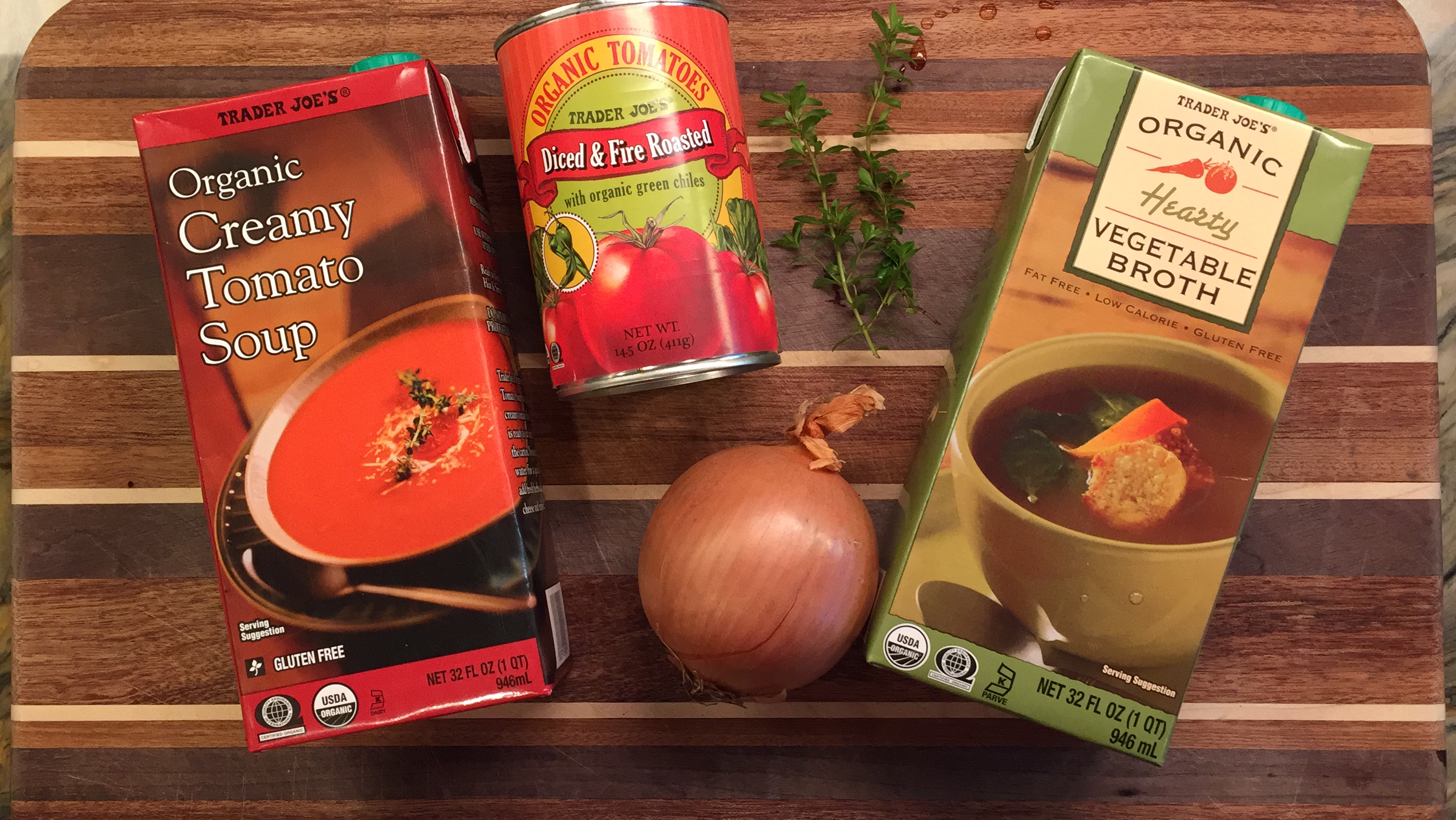 The basic ingredients for this recipe are simple:
1 carton of Trader Joe's brand Organic Creamy Tomato Soup
1 carton of Trader's Joe's brand Organic Vegetable stock
1 can of Trader Joe's brand of Diced and Fire Roasted Tomato chunks
1 medium sized onion-diced
Spices: Salt (to taste, about1/2 to 1 teaspoon), garlic (1 teaspoon fresh mashed) and cayenne (optional 1/2 teaspoon)
Olive oil, or oil of your choice for sautéing onions and to drizzle on top if you don't want the garnishes and soup toppings.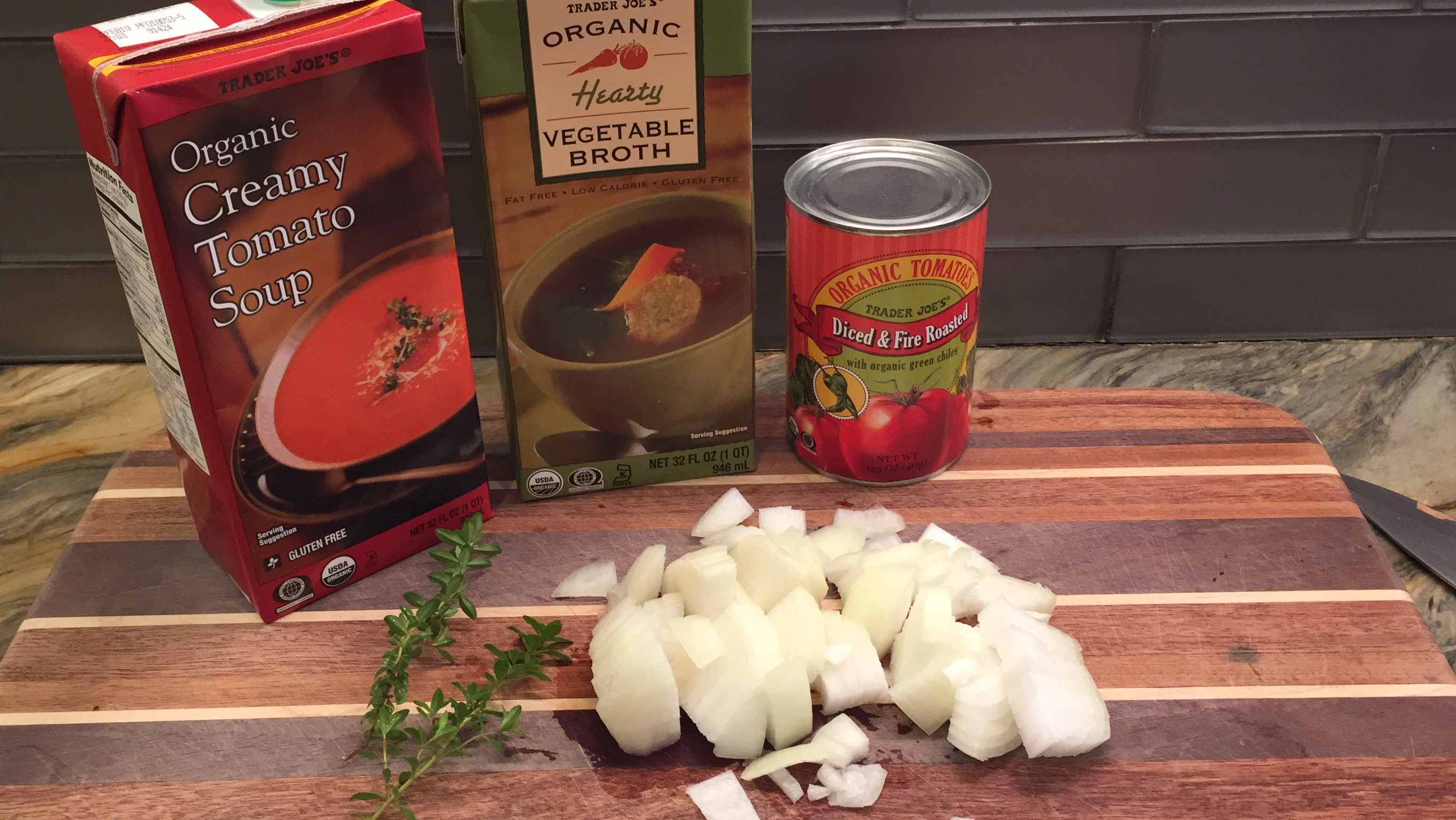 Garnishes are optional, but really take this simple recipe over the top:
Add 1 teaspoon of cream, a sprinkling of aged cheese and a bit of thyme to transform this simple soup to a gourmet soup.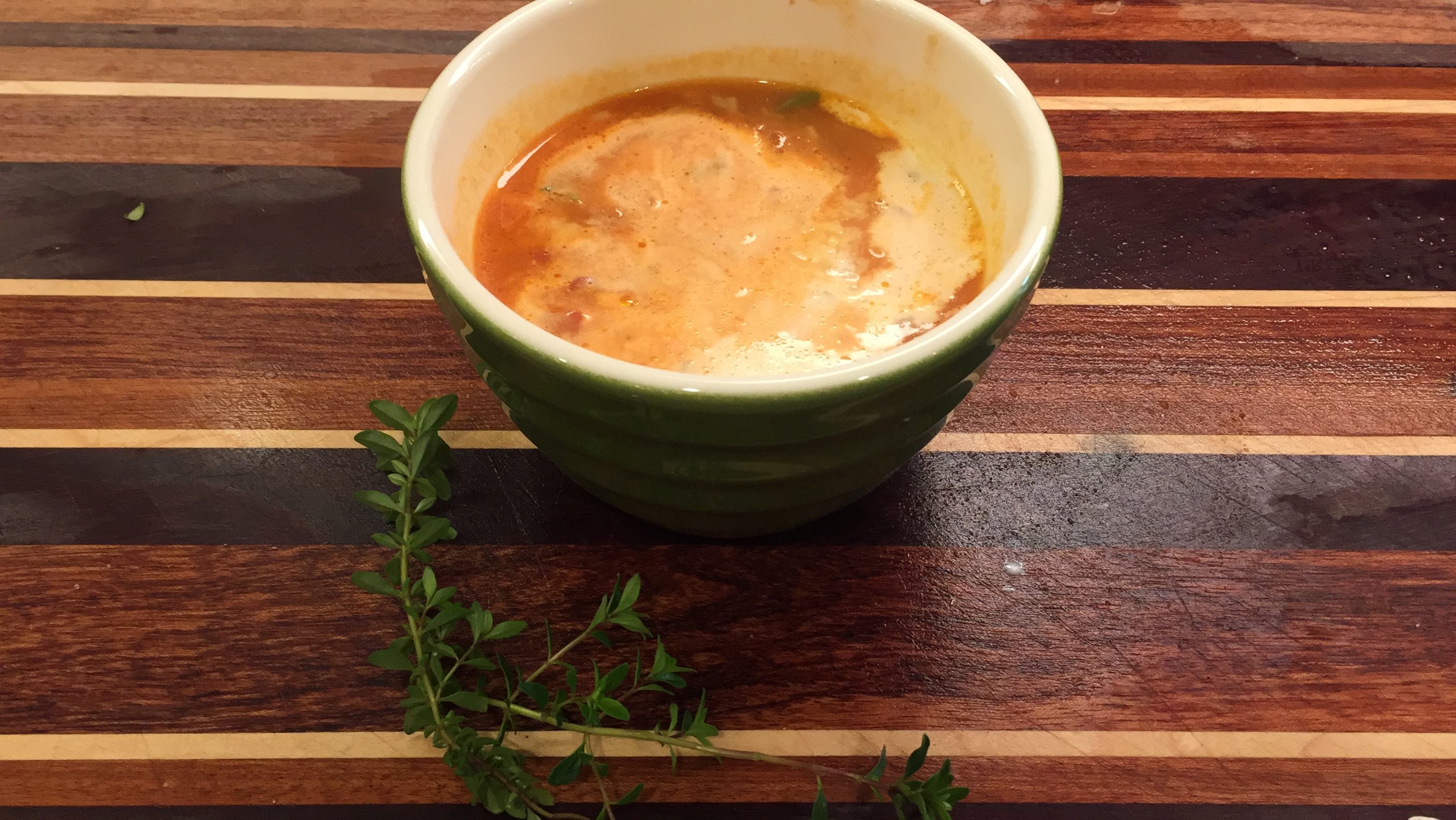 Directions:
Dice onion and toss in a hot soup pan with oil. Sauté for a few minutes until just golden brown. Add Fire Roasted tomatoes and let that warm through, about 30 seconds. Turn up the heat and add the vegetable stock and creamy tomato soup. Add seasonings. Watch soup so it doesn't boil. As soon as it's heated thoroughly, reduce heat to the lowest setting and let it simmer for 5-10 minutes. You can let it simmer longer or reheat this soup. It's very forgiving. Just don't boil it or leave it simmering without the lid, you'll end up concentrating the soup as the water boils off.
Ladle the soup into soup bowls. Shallow bowls will allow the soup to cool quickly, while deep bowls will keep the soup hotter longer. Garnish while hot so the cream can warm (or heat the cream prior) and the cheese can melt. Serve with soup crackers, or my favorite, potato pancakes.
Serves 12 as a first course or 6 as a meal.
Share your alternative to this tomato recipe in the comments. I can't believe how much I enjoyed this tomato soup and would love to try others.
Check out more food recipes, including my favorite, pizza puffs, by clicking on the playlist here.
Find me on Twitter, Instagram and Facebook
---